2020 Vision
With a new year ahead of us and Christmas 2019 becoming a distant memory, #TeamClarity are looking forward to an awesome year.  Our members have certainly hit the ground running in 2020 with tax season in the UK, and the Clarity team haven't wasted any time mapping out our goals and events for the year. Be sure to follow our social channels to keep up-to-date on our daily antics. We love keeping in touch with our community, sharing our news and celebrating others.
New Year's Resolutions
C
COMMUNITY – the #ClarityCommunity  extends further than our platform members. We have a prestigious group of individuals on our advisory board who bring a wealth of knowledge to the Clarity platform. This year we will be hosting a number of business advisory events with multiple networks across the globe, utilising our advisory board. You may or may not be aware of our CLRTY token that fuels the Clarity platform and the private community that is behind that too. This year there will be updates and programmes specifically for the CLRTY community and we are looking forward to this developing more and more throughout the year.
L
LISTEN – the world of fin-tech is moving beast. Every day we are improving and tweaking the Clarity platform behind the scenes. Whilst we have our own agenda, we want to focus more on the feedback from our live #ClarityCommunity and streamline the process of scaling business advisory for accounting firms as much as we can. Look out for our quarterly software update blogs which will include new function lists and updates to the Clarity platform released in the last few months.
R
REACH – the Clarity platform is global. With live #ClarityCommunity members in UK & Ireland, USA, Canada, Australia, New Zealand, South Africa and India we are so grateful that cloud technology allows us to communicate across so many borders. In 2020 we want to continue to grow and strengthen our reach worldwide. And we are starting off with a bang in February with our TOA partnership. Aynsley will be travelling to six locations across New Zealand and Australia sharing the Clarity platform with our ANZ community and speaking on 'how the right combination of people, process and tech can transform your business advisory services'.
T
TEAM – last year we were a fresh faced, brand spanking new start-up. But we join 2020 with a functioning platform, as a global app partner of the month for Xero, and with a growing Clarity community. We will be looking to grow #TeamClarity this year, and we are excited about bringing new team members and expertise into our culture. (Not necessarily confined to the Great British Isles 😉).
Y
YIELD – At Clarity, we are proud of our partnership with the global giving movement – B1G1 – and of doing our bit to help contribute towards achieving the UN Global Goals. Better Business, Better Life, Better World is our ethos and this year we hope to raise more awareness of B1G1 and show how easy it is to create a positive impact on the lives of others. For every interaction with Clarity, be that through events, workshops, conference swag (or lack of), talks, webinars, blogs, networks etc, we will, on your behalf, make one of the following impacts:
provide training for a social entrepreneur
protect a young girl from trafficking
plant a tree to provide nutritious fruits or vegetables
Please get in touch with a member of #TeamClarity if you would like more information on how you can get involved. Most recently we have been able to donate to the relief teams in Australia who are dealing with the devastation of the wild bushfires using the following: https://bit.ly/2QXeUss.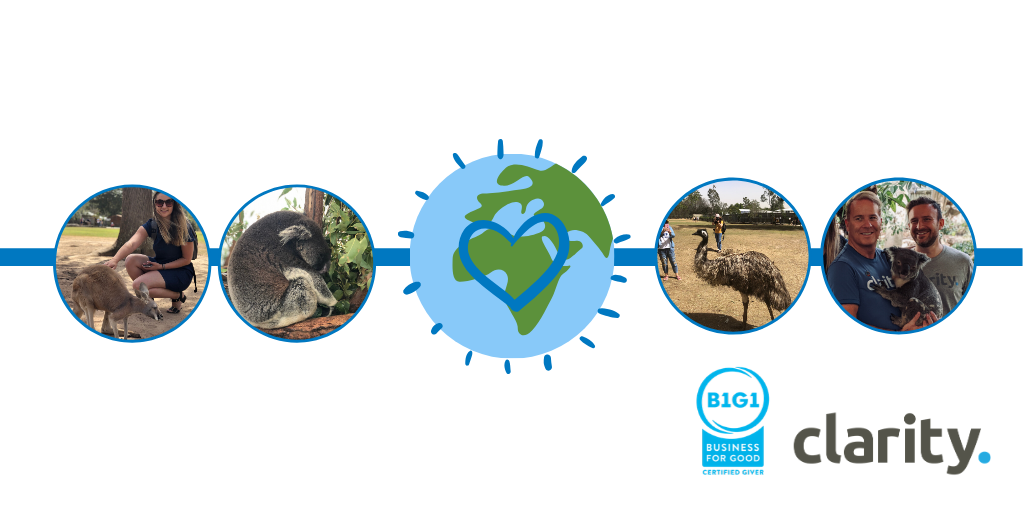 Resources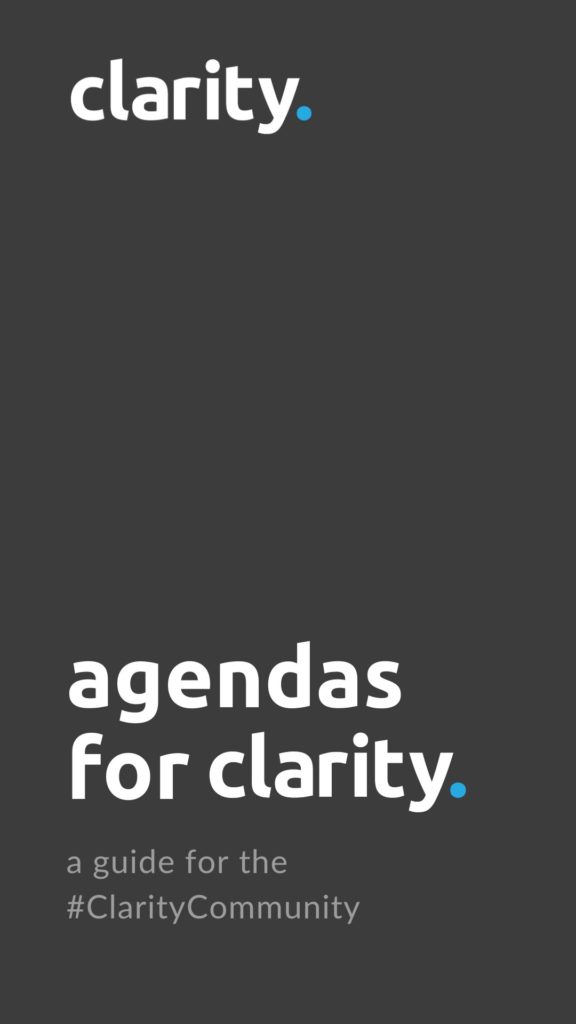 Each month we will be showcasing one of our Clarity resources. Founders Steve and Aynsley have pulled together a library of guides, processes and tips all of which they tried and tested in their own niche business advisory firms historically. These resources will be available to the #ClarityCommunity through multiple means. For example, systems and processes will be available in the business university within the Clarity platform. The main aim for these resources is to support our advisors, at whatever level, in introducing and scaling business advisory to their whole client base. Some of our members have made significant ROI's using the Clarity platform in their first two weeks and we want to share this methodology as much as we can!
In January 2020 we are releasing our Agendas Guide, this will be exclusive for our silver advisor partners. If you would like more information on the different partner programmes, head to your our website www.clarity-hq.com and get in touch with the team on [email protected] if you have any questions. 
We hope you are as excited as we are for 2020. It's shaping up to be a busy one for #TeamClarity and we are looking forward to working with you all this year. Wishing you all a prosperous and painless tax season and beyond.