A new perspective for your firm, bringing advisory to life (and scale)! Increasing your profits by 125%
The Portfolio View – What if you could see all of your clients on one screen? Showing each of their key numbers, how they're performing and how they rank against one another. 
What if you could quickly see at a glance, how changes to the key drivers of performance could effect their profit and cash position? 
And what if you could sort and filter their key metrics and improvements, effectively benchmarking the clients in your portfolio?
The Portfolio View
Clarity's Portfolio View does this and so much more. You can tag your clients to help with segmentation and grading. Allocate them to a department or partner/manager. Sort them alphabetically or by ranking. Filter them by location, sector or period end. Understand who needs urgent help and those that are at risk of moving on, if you don't give them the help they want?
How would this change the view of your clients and your ability to help and ultimately transform the potential of the firm and your clients?
Communicating effectively with clients
What if you were able to quickly email your clients and show them the results of crunching their numbers and how, with simple small changes, they could dramatically transform their businesses and lives? What if you could instantly create detailed insights that could show them clearly how you could help? 
Conversation starter, making business simple
And what if that started a conversation that anyone on your team could have with all of your clients? One that led to a deep understanding of their numbers, where they are now, where they could get to and what the gap is. Simple, but vital, strategic planning that anyone in the firm could undertake. Leveraging technology, effectively giving 100% of your clients business advisory and cost effectively.
Strategic and action plans
And what if that led to an action plan that was clear, numbers led and focused on achieving results? A plan that identified clearly who was responsible for doing what by when. A split of tasks between the business and the firm. A plan that clearly identified how the firm could help.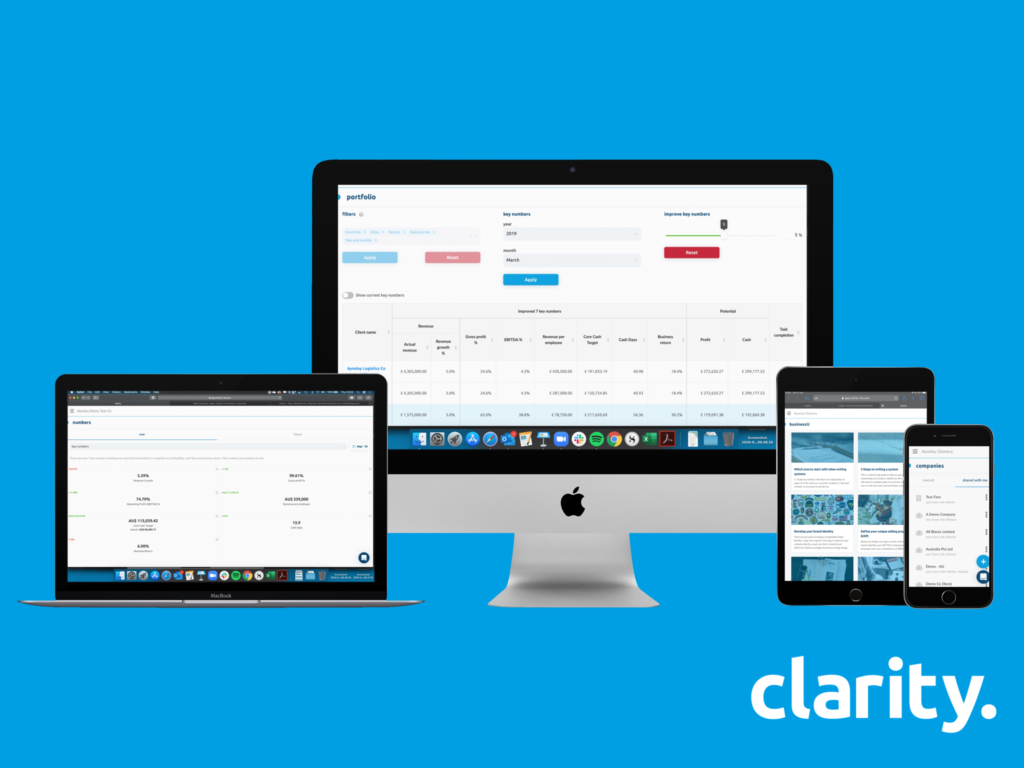 Additional revenue
And what if this resulted in additional revenue for the firm? Revenue generated by providing business owners with what they really wanted. Genuine added value support services (aka business advisory) that almost all of your clients were willingly prepared to pay for. What if you could show and demonstrate the value you could create?
And what if you could so this quickly and easily for prospects too?
High impact actionable strategies
And what if this was backed up with high impact actionable strategies that get results? Systems, and step-by-step implementation plans that empower all of your team to get involved. Resources and guides that mean you don't have to spend ages training your team. And all of this is ready to roll, so you don't have to spend time understanding how you are going to make this work and commercialising it to generate an ROI for your firm.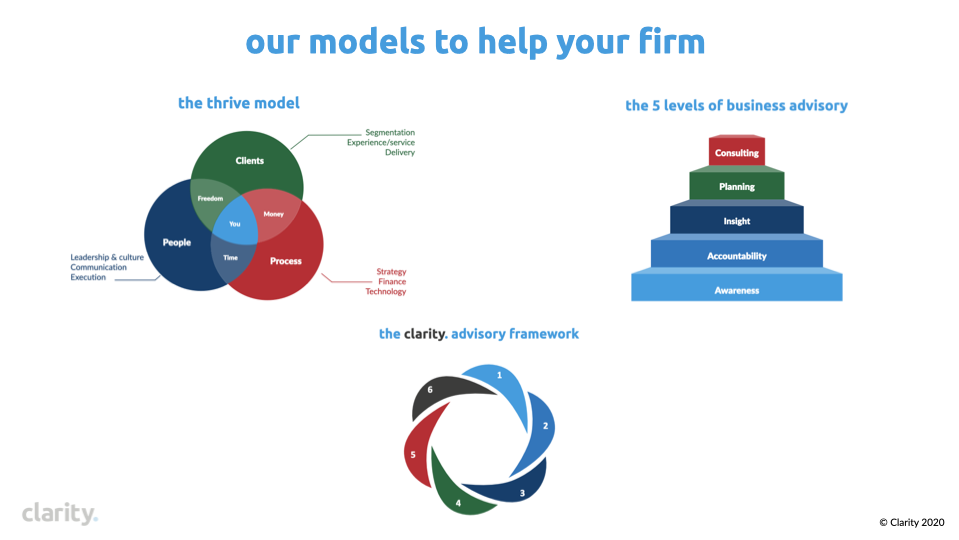 All from
And what if this was available from £130/$195/AU$260* per month?
Global platform
Clarity is a global platform that combines the power of technology and systems to enable our members (accountants, bookkeepers and advisers) to create, package, price and deliver added-value business advisory services to their small business clients. By doing this, we help them increase revenue by 50%, net profits by 125%, engage their team, free up time and create freedom – helping their clients to do the same along the way.
If you don't believe those numbers, check out our calculator here. You can play with your own numbers to see your firm's potential to thrive.
And don't just take our word for it. Check out some 5* reviews here and what our members say here.
More information
If you'd like to chat to one of the team then request a call back to see if Clarity would be a good fit within your accounting firm. You can also read how Graeme Tennick generated £42k GRF during his first two weeks!
*plus sales taxes where relevant