Clarity Software Development – Q3 2020
The Clarity software development shows no sign of slowing down. Delivering business advisory remains vitally important for accounting firms in this CV-19 world. During Q3, we have continued to see accountants all over the world pulling out all the stops to help their small business clients survive CV-19 and beyond. In the same effort, our software updates and development of the platform focus on helping accountants make business simple for their small business clients. Translating the realities of where their business is now, where they can get to, and how to simply bridge that gap.
Clarity Software Update – Recently Released
Firm Data Tags

Full Time Equivalent Employee Numbers

Xero Security Test

Two Factor Authentication

Invoice Email Function

New Pricing and Membership Levels

Email Report Directly from Clarity
Firm Data Tags
Firstly, you can now use Portfolio View as a mini CRM system and personalise the tags to fit your firm and show insights all in one screen. The three we recommend are;
client grade

service level

department/manager
However, some firms are using the firm data tags for keeping track of those clients that have CBILS and/or Bounce Back Loans and also the monthly price (direct debit) that the client pays.
Full Time Equivalent Employee Numbers
Next, we added this to Portfolio View so that at a glance you can see the employee numbers for each client to check if correct whilst you are speaking with them. These can be edited within Portfolio View for ease. Editing can be done either on a one by one basis, or in groups (similar to Xero cash coding).
Xero Security Test
Woohoo! We passed a major milestone with Xero back in July with over 1000 Xero connections in Clarity, as a result we needed to do their security test which we have passed. Throughout Q4 we will be continuing to add many connections to Clarity.
Two Factor Authentication
Two factor authentication is mandatory in Australia and optional (but recommended) everywhere else in the world. You can use the google authentication app on your phone or tablet so you can set this up for yourself. 
Invoice Email Function
You can now automatically send our Clarity invoices directly to your receipt processor of choice, or any other email address that you would prefer.
New Pricing and Membership Levels
So, we've been listening to our community of accountants and bookkeepers and have updated our membership levels and pricing accordingly. Firms can now get involved with Clarity and help generate additional profits for the firm and their clients for as little as £187pm. Our most popular package is Standard, top features included in this level are;
filter and benchmark your clients
create a 12 month financial plan
access to Basic Advisor – hi-impact systems, processes, checklists etc for your team
detailed reports for your clients
dedicated member success manager
(plus all features at Starter Plus level)
You can see ALL of the packages here.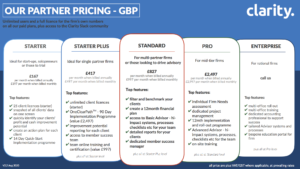 Email Report Directly from Clarity
Lastly, Clarity members can now produce a basic report showing clients their potential profit and cash improvement and gives clients basic insight and action steps. Furthermore, this basic report is generated straight from  Portfolio View or can be downloaded and sent separately.
You can edit the email template to suit firm/manager style and reflect the nature of your relationship with the particular client. 
So, what does this mean in a nutshell?
Easier to contact clients

Get meetings booked in using your calendar link

Deliver more value to clients and to the firm
You can watch a short overview video here: (2 mins)
Upcoming Adjustments
First,  we will be launching the Financial plan – in Q4 you will be able to take the numbers from the future screen and build at least a 12 month plan (which can be exported into for example, Futrli)
Next,  we launch the ability to export specific filtered pdfs directly from Portfolio View. This is handy if you've reviewed the data and you want someone else in your team to follow up with the client.
And finally, our Action Plans are going to be more dynamic. This is a big feature update that will be continuously worked on throughout Q4.
—————————————————
Clarity is a global platform that combines the power of cutting-edge technology and proven award-winning systems to enable our members (accountants, bookkeepers and advisers) to create, package, price and deliver added-value business advisory services to their small business clients. By doing this, we help them increase revenue by 50%, net profits by 125%, engage their team, free up time and create freedom – helping their clients to do the same along the way.
If you don't believe those numbers, check out our calculator here. You can play with your own numbers to see your firm's potential. Then, take our new Success Factor quiz to understand your firm's success factor score and ability to thrive here.
And don't just take our word for it. Check out some 5* reviews here and what our members say here.