Clarity Software Development – Q4 2020
There is no doubt that 2020 has brought a lot of stress and uncertainty for accountants. And, of course, to your small business clients, with lockdowns and new government stimulus packages. #TeamClarity have watched in awe as the #ClarityCommunity have pulled out all the stops for their clients worldwide. In turn, we have been supporting our community with various updates and Clarity software development to help simplify the complex world of business advisory. Q4 has seen a huge shift forward for the Clarity platform. And, there is light at the end of the tunnel for the economy. An inevitable recovery IS happening. Now is the time to plan for the future, not the time to sit back and react. See how our updates help aid our accounting members make business advisory simple for small business.
Clarity Software Update – Recently Released
Email Out Simple Report (Custom Templates)

Financial Plan

Portfolio View Updates

Future Screen Updates

Funding Plan

Member Experience Updates
Email Out Simple Report (Custom Templates)
Now in Clarity, save time and deliver huge value to your clients with our simple report email function. Easily email out, from your email address, a simple report to all your business clients at the touch of a button. These reports (which are editable to suit your brand, tone and client sector) offer a visual overview as well as detailed text explaining the potential profit and cash improvement for each client. Clients are able to book a meeting directly into your calendar for your help to get that improved profit and cash, generating profitable additional revenue for your firm.
Find out more in our 2 minute video:
Financial Plan
Portfolio View Updates
Bulk calculation load change 
At the touch of a button you can change the calculation method for a batch of clients all at once. For example, particularly helpful if you have 12 month rolling calculation, which is relevant now because of COVID, or annualised.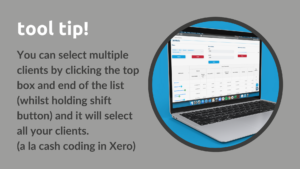 Cash gap now shown on improved key numbers screen
Growing businesses consume cash. So, now you can see easily all on one screen, for all of your clients, what the increase in the cash target will be when improving the numbers.
A simple but effective update – making it easier to find the right clients quickly!
Future Screen Updates
The Clarity Future Screen now has the ability to edit the target percentage (or monetary amount). So, instead of only improving the 7 key numbers, you can now enter the target key number (ie. the target gross profit percentage) or, you can enter the target monetary amount, ie the actual gross profit the business wants to have. This is essential particularly now, if client's are looking just to get back to pre-civid positions. For example, if pre COVID gross profit percentage was 75%, and currently is 50%, you can quickly show the client what the profit and cash improvement would be by entering the gross profit percentage target as 75% (instead of playing with improvements to get there). 
In addition, the 7 key number tiles updated to include actual figures (for gross profit and operating profit). This gives you and your clients more confidence in where the numbers have come from.
Funding Plan
Hot on the heels of the November product release of Financial Plan, Clarity launched; Funding by Clarity (powered by Capitalise). This means that you can proactively highlight funding requirements (before your client comes to you) and help them get funded in three quick and easy steps. Put simply, Funding by Clarity means you can create a strategy and business plan for all your small business clients. Then, crucially, help them fund it. All within the same platform. The funding plan function uses the information you have collated with your client and presents the most suitable solutions.
Member Experience Updates
In amongst the major software updates, we have been improving and tweaking smaller elements of the platform to make it easier to come back to clarity, and for a better member experience. These include;
Search for accounts in mapping screen

Faster reconnection (Xero and QBO api) – on the rare occasion that the Xero and QBO online connection goes down!

Carry forward tasks in Action Plan

Remember me for 14 days – on two factor authentication

Remembering the selected month and year and numbers screen

Remember the screen when auto-logged out
Upcoming Adjustments
Following on from the two major additions of Financial and Funding Plan, the Action Plan feature will become more dynamic in the new year. And, having listened to member feature requests, member experience updates will be finalised on both the 7 key numbers and Future Screen.
—————————————————
Clarity is a global platform that combines the power of cutting-edge technology and proven award-winning systems to enable our members (accountants, bookkeepers and advisers) to create, package, price and deliver added-value business advisory services to their small business clients. By doing this, we help them increase revenue by 50%, net profits by 125%, engage their team, free up time and create freedom – helping their clients to do the same along the way.
If you don't believe those numbers, check out our calculator here. You can play with your own numbers to see your firm's potential. Then, take our new Success Factor quiz to understand your firm's success factor score and ability to thrive here.
And don't just take our word for it. Check out some 5* reviews here and what our members say here.