A simple way to calculate your firm's potential. Find out how much money you are leaving on the table by not combining compliance and advisory in the most efficient and effective way possible.
We'll set the scene. Accountants are tired and hungry. But don't fear, Clarity and Futrli have teamed up to provide a remedy for what ails you!
You're tired because for the last few months, you've been working tirelessly to be there for your clients more than you ever have before. You've had to. To prop up the economy and to leave no business behind.
Hungry because you are time starved. You've become a slave to the firm, to your team and to your clients but revenues are still not what you'd expect. If only you had time to look up.
What if there was a way out of this? Some light at the end of the tunnel?
Clarity and Futrli have put their heads together to provide just that.
The Traditional Accounting Business Model
It's broken! It is no longer fit for purpose. Below is the model that accounting firms were based on for decades. And in reality, it's this:
All that hard work for just 15% of the profits.
A Better Model
But what if there was a better way?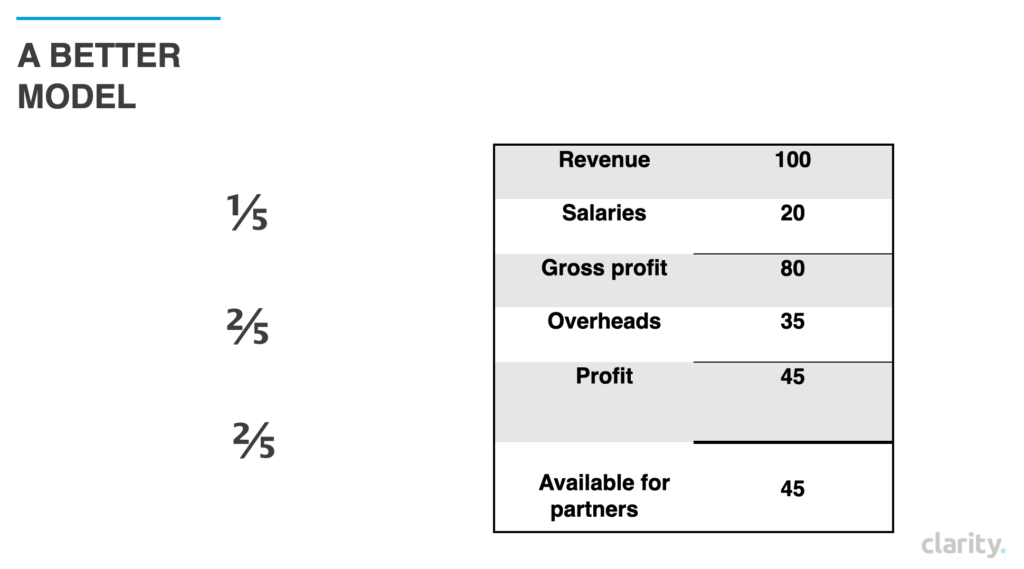 That looks more like it. But how is this possible!?
Clarity and Futrli have been at it again and have teamed up to show you how all this can be possible. The calculator shows you the potential you have in your firm and what can be achieved. AT SCALE.
Using the Clarity/Futrli suggested pricing, and feedback from our members, the average monthly business advisory fee is $400/month (£257). If you could, for example, roll this out to 100 clients then that's potentially $480K extra revenue.
Time poor? Hire an extra team member on a $120K salary and add in some overheads and you're still adding an extra $320K to your bottom line.
The overall result?
Don't believe this? Think it's too magical? Try it out with your own firm's figures!
Calculate your firm's potential
Phases of COVID-19 Crisis
There is no better time than now to start to scale your advisory services. Businesses need your support more than ever. Now is the time to get your clients out of survival mode and looking forward once more.
We have moved out of the Shock phase of COVID. Where we were tirelessly firefighting and protecting our futures. We are currently in the recovery stage. Check in with all of your clients and be ready to act quickly if they're 'on the edge'. Help those clients, who are ready, to thrive. And don't forget all those in between!
Soon we'll be ready to reset for growth. This will need:
Strategic thinking
Planning
Leadership
Positivity
A prosperity mindset
Give us a Call!
Had a play around with the calculator and have now seen what is possible in your firm?
Request a call on our website or send us an email at [email protected] and we can start planning today.
---
Global Advisory Solution
Clarity is a global platform that combines the power of cutting-edge technology and proven award-winning systems. It enables our members (accountants, bookkeepers and advisers) to create, package, price and deliver added-value business advisory services to their small business clients. By doing this, we help them increase revenue by 50% and net profits by 125%. We help them engage their team, free up time and create freedom – helping their clients to do the same along the way.
So, think those numbers are too magical? Check out your own using our calculator here. You can play with your own numbers to see your firm's potential and take our new Success Factor quiz. Understand your firm's success factor score and ability to thrive here.
And don't just take our word for it. Check out some 5* reviews here and what our members say here.