A whistle-stop of what Clarity was up to during the year and a 2022 round-up – in no particular order!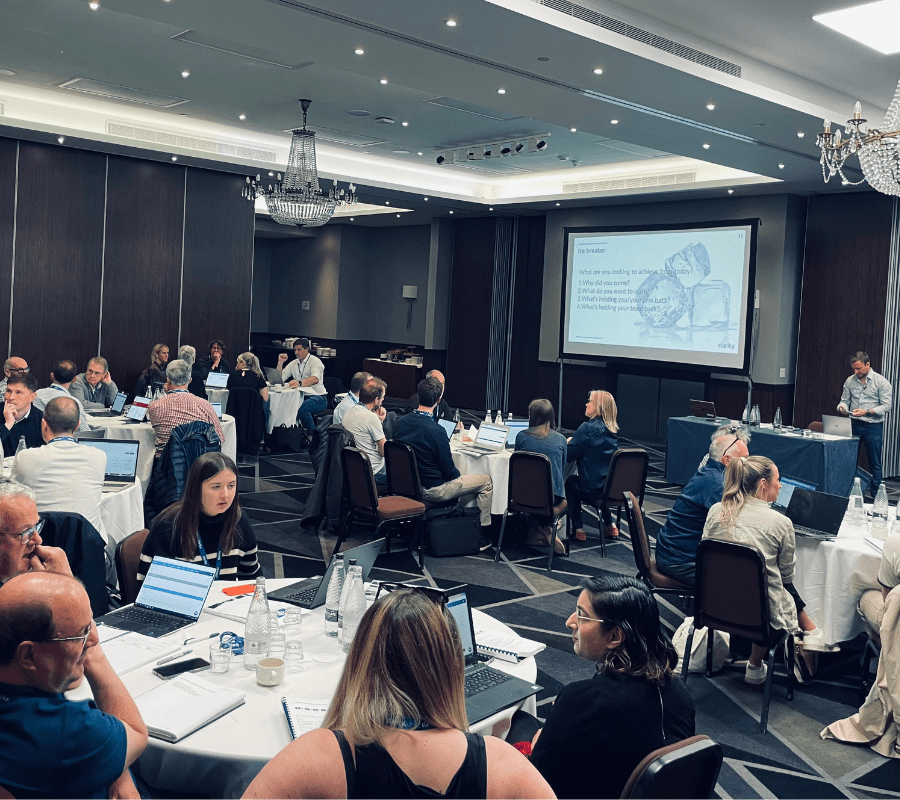 Unleash the Heroes Within
Clarity hosted and attended many live events in 2022.
Our famous Unleash the Heroes Within events were a real hit amongst partners and team members alike! It's a whole firm approach to doing great things for your clients, team and firm!
Practical hands-on workshop
Unleash shows you how to transform the way your team think. It empowers you to unleash their powers to make a massive difference to the firm and your clients. It shows you how to give them the confidence to have great conversations. And most importantly how to deliver repeatable, scalable services that are profitable for the firm, valuable for the client at a price they can afford to pay.
It's a way of working that is generating firms additional profitable revenue; at recovery rates 3x that of average firms, effectively doubling profit, starting from just three hours per week.
In addition, the workshop helps solve the challenges of:
never having enough time;
winning the talent wars; recruiting and retaining great talent, whilst also building confidence within the team;
resistance from the team for new ways of working or implementing the plan;
tech overwhelm and information overload; and
the frustration of many false starts with advisory.
We ran 3 events across the UK in 2022 and due to demand are planning to host them more frequently in 2023. Our next event is in London on 28 February 2023. We hope to see you there.
Here's what some attendees have said about the event
"Off the back of today we're going to make an additional £150K profit. "If you're not coming to this event I want to know why. Drop me an email, send me a message why you're not going to turn up" – Stephen Paul, Valued Accounting.
"A simple way to take advisory away from just the managers and owners and give responsibility to the team. It empowers and excites me. It makes me want to develop my firm and get the team excited about advisory" – Gavin Beach, Beach Accounting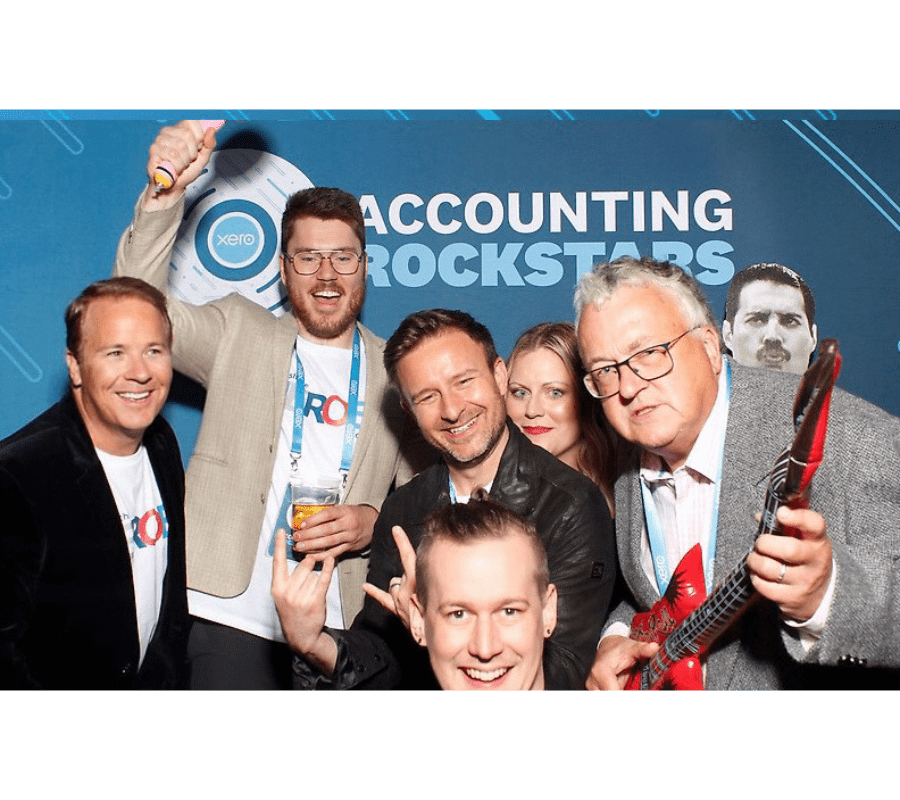 Live Events
We also attended and exhibited at events such as:
Accounting web, ICAEW, Xero Awards, Advancetrack, Accountex, Digital Accountancy Show, Xerocon, Accounting Excellence Awards, Accounting Web Live and Accountex North.
Our CEO and Founder Aynsley was a keynote speaker at many of these events, and alongside Steve, Sean and Matt the whole Clarity team really enjoyed seeing our members and the accounting community.
Members
We've had so many new members join the Clarity family and there have been so many successful wins that it is hard to name them all.
But we'd like to make a few mentions; Firstly to Sharon Pocock and the Kinder Pocock team for earlier in the year by improving their MRR by 150% and have successfully increasing the fees across a large portion of their client base.
One of our biggest Clarity advocates, Paul Miller, has found the key to success by landing new Clarity clients each week and increasing his fees across the board. Paul has lofty goals and has been working closely with Sean to reach them.
Advocates
A big thank you to Stephen Paul, Graeme Tennick, Penny Rowden and Peter Jarmen for being massive Clarity advocates and spreading the word.
Community
We run monthly member lunch and learns which bring members together no matter what stage of their Clarity journey they are on. It's a safe space to pick the brains of other members who have found proven successes which you can replicate.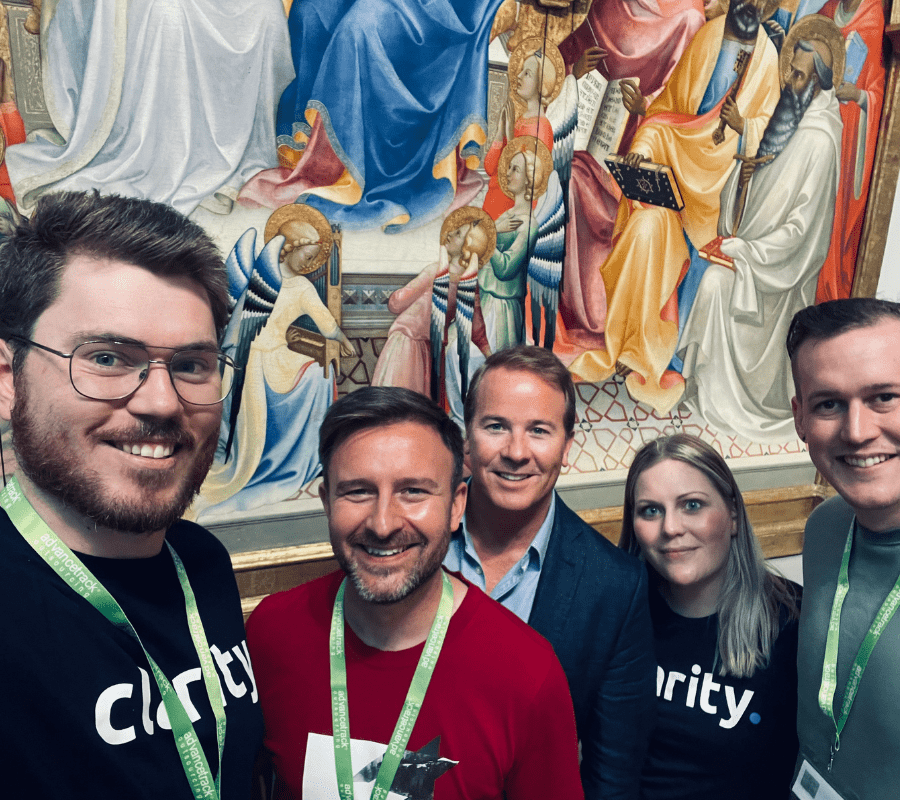 #TeamClarity
This year we expanded our team by bringing on board the talented Kate Beziazychna, Sean Smith and Matt Fox.
Sean has experience in cloud accounting software with previous experience working at Xero and Free Agent, particularly around change management. Matt has experience in accounting as he worked in Australia as a financial accountant and at Xero, Ignition and Pixie in implementation and account management roles. And Kate joins our development team as a junior engineer.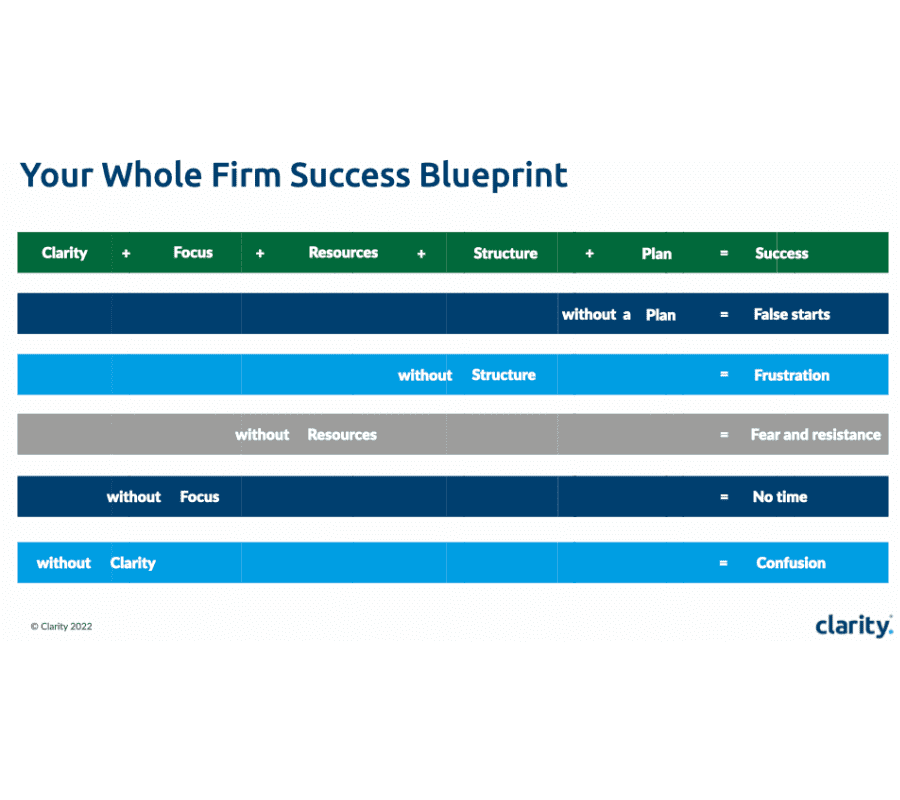 Potential Realised
At Clarity, we believe that accounting is fundamentally about great storytelling.
And we want to help you and your team deliver compelling, commercially focused narratives to your clients about their numbers. With Paul, we introduced a brand-new web event in Q3 called 'A Story of Advisory'. And the results were stunning. If you missed it and want to experience it for yourself and your firm, keep your eyes peeled in the new year – the event has evolved to an even more impactful "A New Story for your Firm".
A look at our own brand story
We also took a look at the story we were telling about ourselves. Clarity, as a platform and as an approach to accounting, in reality, was untying the hands of accountants. When we pull this together, with the other parts of the story, how it affects the different characters and when, we were able to define Clarity's brand. 
Simply put: We help busy accountants thrive by realising the full potential of their team, their firm and their clients. We do that by giving them the structure, tools and plans to build better businesses; and the confidence to make it happen. 
Potential realised
Boiling this down to two powerful words, "Potential Realised". The successful ending to our story.  
We wanted to encapsulate that our purpose was to help accountants realise their potential, so that they in turn could help their clients to reach theirs. And if we were successful in that endeavour, then we ourselves would have realised our potential too!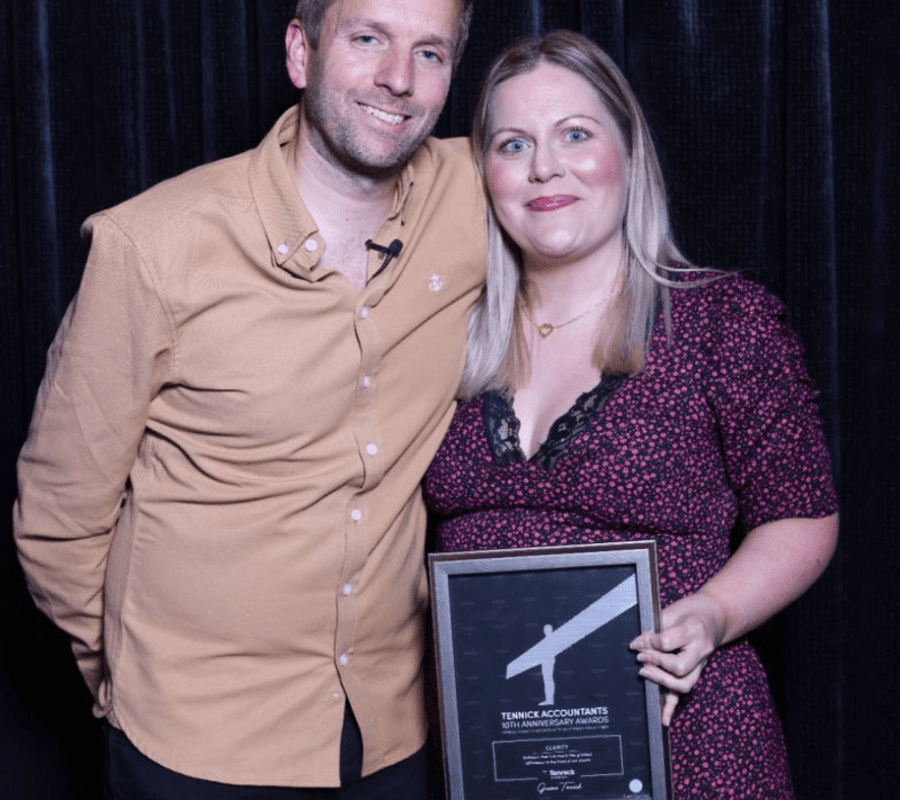 Awards
Clarity® HQ were so delighted and honoured to receive the "Software that has made the greatest difference to the lives of our clients" award from Tennick Accountants back in January – a brilliant way to start the year!
Better Business | Better Life | Better World
Firstly, we love working with the team at this digitally-savvy award-winning firm that does amazing work with small businesses. Secondly, our whole purpose is Better Business, Better Life, Better World – giving small business owners clarity, clarity so that they can build a better business for themselves, a better life for their family & team, and ultimately contribute towards creating a better world.
This award still means so much as it gives us validation that we're on the right track, spurs us on to continuously improve and inspires us to do even more. Thanks so much Graeme Tennick FCCA for all your support, it is massively appreciated.
Xero Awards
We were delighted to be listed as finalists in the Xero UK & EMEA awards – Practice App of the Year. Unfortunately it wasn't to be but we were happy for our friends at Ignition.
Accounting Excellence Awards
This year we have also been lucky enough to be finalists in two categories at the Accounting Excellence Awards. It was an honour to be in such mega categories alongside such esteemed nominees as Appzen, Crunch, FreeAgent, IR35 Shield, Xero, Fluidly and Syft Analytics. Bring on 2023 and the next Award season…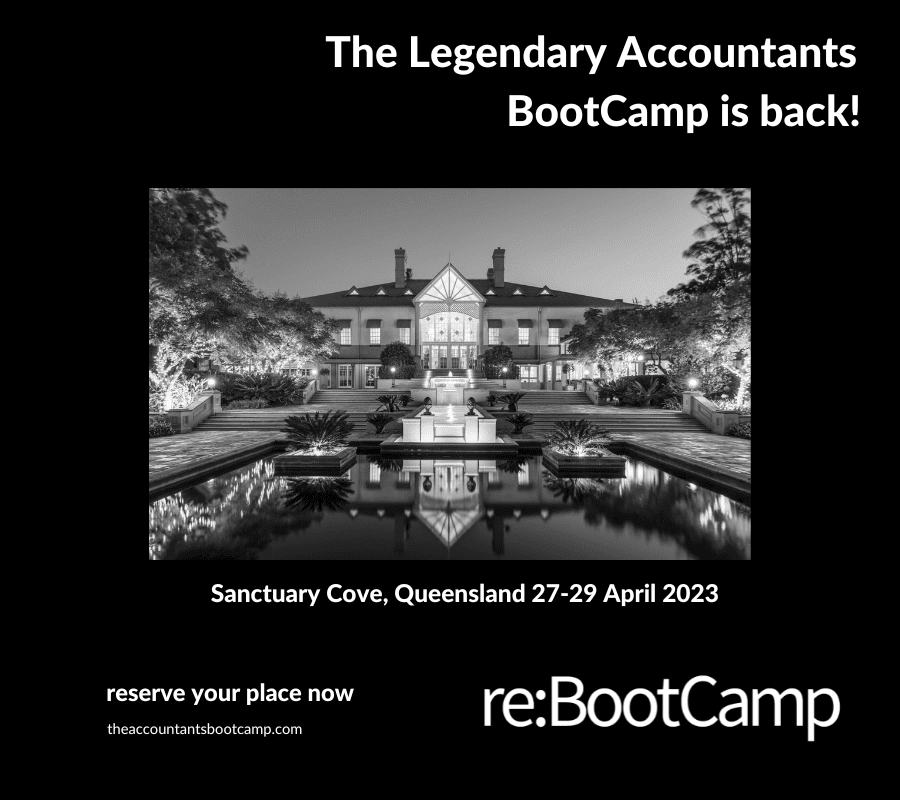 Clarity is heading to Australia in April 2023
Clarity is heading back down under!
This time with the godfather of accounting Paul Dunn to host a 3 day long advisory BootCamp on the beautiful Sanctuary Coast of Queensland. This is a deep and tightly structured process revolving around you and how you apply proven, workable, game-changing tactical initiatives to your own firm. We've already sold 20% of capacity and tickets are going fast, particularly our super early bird allocation. Plus Matt can't wait to return to his homeland after a long 4 years.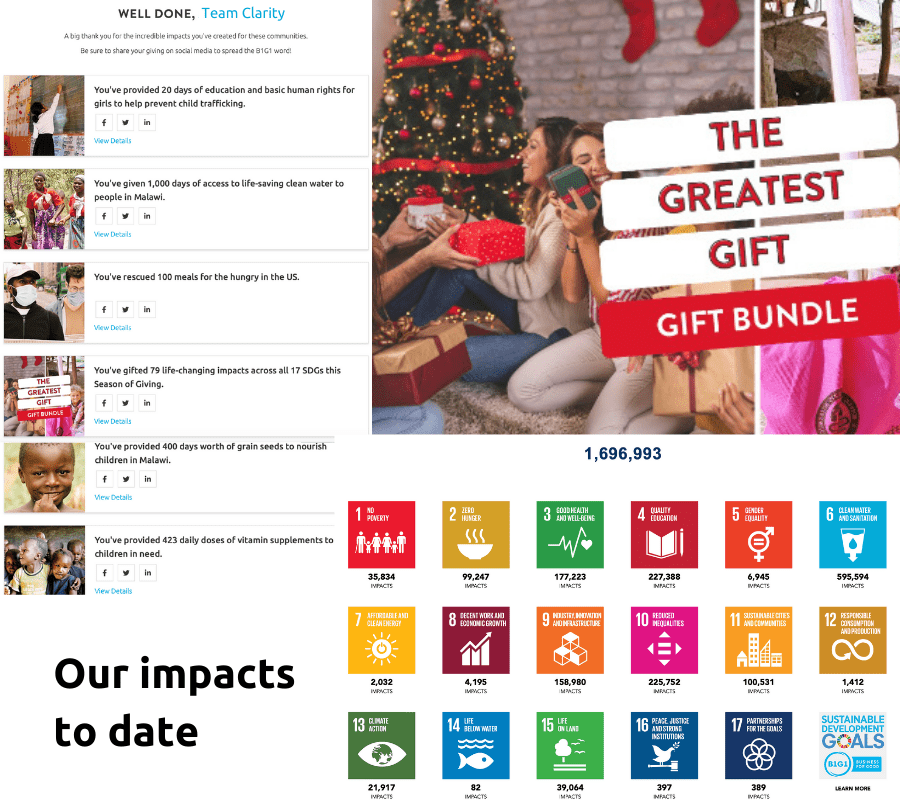 Happy Holidays
Finally, from all of us at Clarity® HQ we hope all of you who celebrate have a wonderful holiday period with your family and friends.
2023 is going to be awesome and we can't wait to tackle it with you.
As a thank you to all our members, colleagues and friends for your support throughout the year, we have created 2022 smiles around the world this holiday period, by giving to those in need through our partnership with B1G1.
About Clarity
Clarity® is the complete end-to-end business advisory engine solution that helps accountants thrive, by realising the  full potential of their team, their firm and their clients.
We bring meaning to the word "advisory". Our multi-award winning platform and Member Success Team give accounting firms the structure, tools and plans to build better businesses; and the confidence to make it happen.
We help them introduce and create a profitable, repeatable and scalable business advisory service for their firm. One that increases revenue in excess of 40% and profitability by over 125%.
Significant value
Using Clarity adds significant value to small business clients. Value they clearly understand and want to pay for.
Why not book a call, so we can schedule a strategy session with you to create a customised implementation plan? We will then work with you to execute your plan.
And download our free report "The 7 Reasons Why Business Advisory isn't Working" here.