[et_pb_section][et_pb_row][et_pb_column type="4_4″][et_pb_text]
February's accounting firm needs no introduction. Find out how Raffingers are putting their core values at the frontline of their 2021 goals, and how they are using Clarity to launch their advisory offering firm-wide. Raffingers are our Clarity's February Member of the Month.
February Member of the Month
Tell us a bit about Lee Manning – what motivates you, what's your 'why', what do you enjoy outside of your accounting firm?
My motivation is to constantly push myself and get out of my comfort zone. I enjoy testing new strategies and ideas and not frightened of failing as this only spurs me on to succeed. Outside of work I enjoy playing golf and visiting new countries and making new memories with my family.
Tell us a bit about Raffingers – what are your goals for 2021?
What makes you different?
I have been with Raffingers since I was 18. I am now pushing the ripe old age of 52 and became a partner at 26. I've helped grow the practice into a 9 partner 80 employee strong business. My main goal for 2021 is to launch our advisory platform offering with the help of Clarity. We are different to other accountants as we listen to our clients needs and wants and we live by our core values every single day. The Raffingers values are the bench mark for who we are, what we do and why we do it. They guide everything from our work approach to our relationships with people;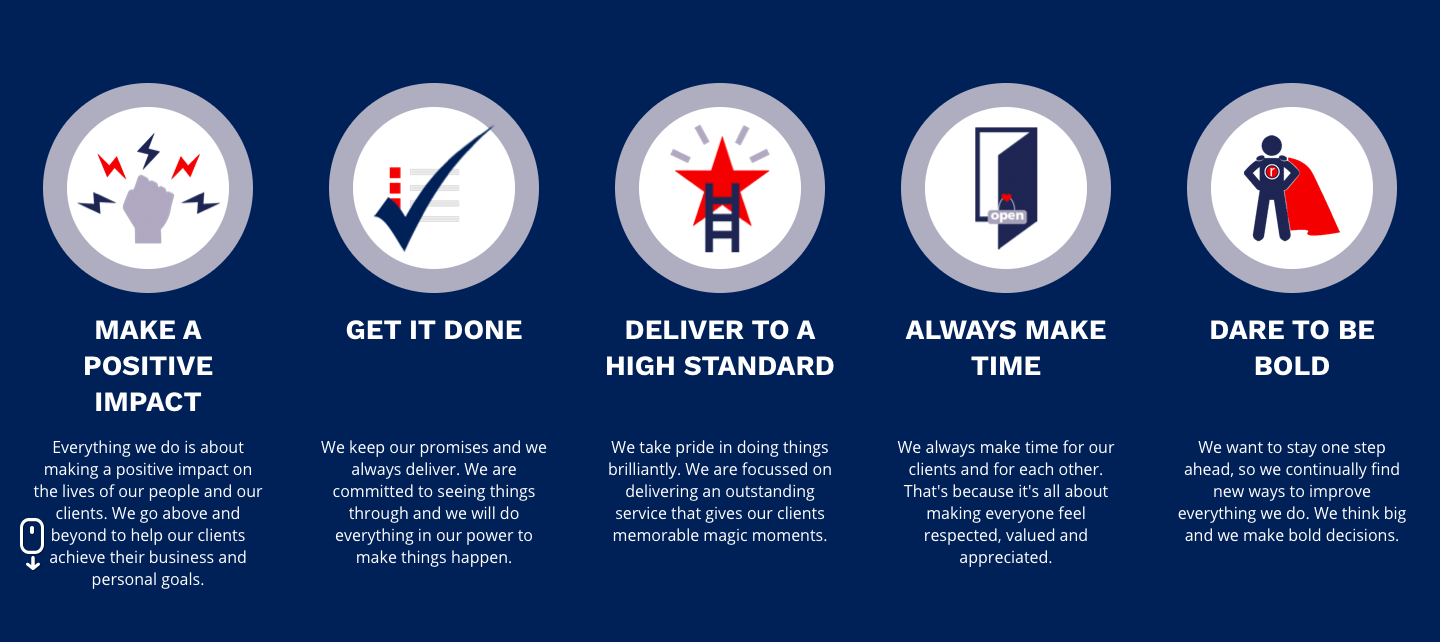 I know you're a big fan of technology and using it to provide a better service. What are your favourite apps/tech right now?
It goes without saying but Xero, Receipt Bank, Futrli, Chaser and Xavier are our 5 core apps. We are just implementing Hubspot for our CRM and pushing Office 365/Microsoft Teams/Sharepoint across our practice is beginning to show benefits especially working remotely.
What progress or changes have you made in your firm over the last month?
Sent videos to a number of clients showing them the "Clarity effect" on their numbers and converting those to advisory paying clients.
We also recently held an Introduction to Advisory training session with our full team in order for them to understand what our plans are for advisory during 2021.
What advice do you have for any firm thinking about signing up to Clarity?
Just go ahead and do it. Uploading the data from Xero is easy so start on those clients, do the grading so you know who to target and send a few videos. The clients will be grateful for you being pro-active. The challenge is to keep up with the demand and be able to deliver the advice.
How has Clarity made a difference to your firm and to your clients so far?
It has given us the tool to speak to clients about their numbers which we are comfortable with. Clients are so grateful for the help and advice even if it's to tell them they are doing everything they possibly can but there is always something that can be improved.
The secret is to ask the right questions and get the client thinking about their business with an open mind.

__________________________________________________________________
Clarity is a global platform that combines the power of cutting-edge technology and proven award-winning systems to enable our members (accountants, bookkeepers and advisers) to create, package, price and deliver added-value business advisory services to their small business clients. By doing this, we help them increase revenue by 50%, net profits by 125%, engage their team, free up time and create freedom – helping their clients to do the same along the way.
If you don't believe those numbers, check out our calculator here. You can play with your own numbers to see your firm's potential. Then, take our new Success Factor quiz to understand your firm's success factor score and ability to thrive here.
And don't just take our word for it. Check out some 5* reviews here and what our members say here.
[/et_pb_text][/et_pb_column][/et_pb_row][/et_pb_section]