We wholeheartedly support the initiative to #LeaveNoBusinessBehind. Find out what we have pledged, and how to get involved too.
In July 2020, #TeamClarity joined the campaign for accountants and businesses to #LeaveNoBusinessBehind. Clarity stands alongside ACCA, AVN, AccountingWeb, The Corporate Finance Network, Accountex and Capitalise, spreading the word and sharing the resources to kick-start the SME economy post the COVID trauma.
What is the Initiative?
It's no secret that the economy and market has been on it's knees since COVID hit in March 2020. And as accountants, we have been thrown into the spotlight, trying to manage and support our clients through the various government provided schemes and loans. Why have accountants been given this role? Because we have our fingers on the pulse, working with every day numbers. Cloud accounting software allows us access to economic trends before they are reported, and we are able to do a critical assessment of what is really happening on the ground for all businesses in the UK.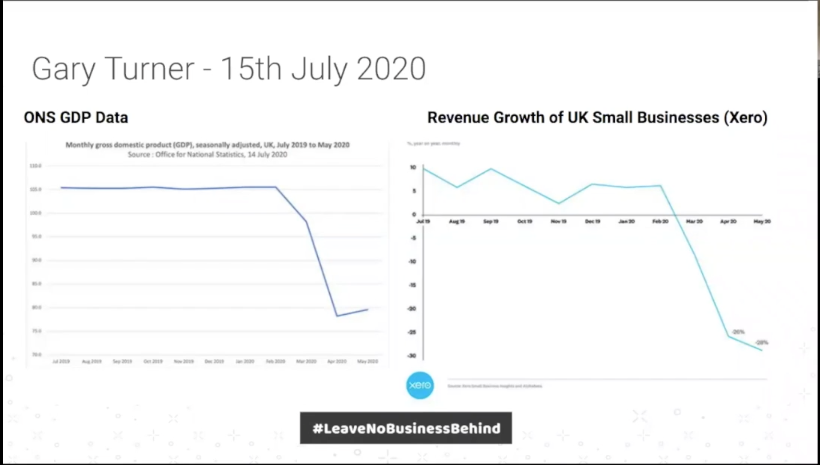 The Harsh Truth
Kirsty McGregor, The Corporate Finance Network, shared the results of her survey in the #LeaveNoBusinessBehind kick-off video with Paul Surtees, Capitalise. Before CBILS, Bounce Back Loans and Furlough extension schemes, just over 1 in 5 businesses were worried that they were going to collapse due to COVID. SME's and business owners are therefore turning to their accountants to help them through these uncertain times.
Obviously, the best way to help your clients during this time is with three-way forecasts, including cashflow projections. Pick your clients up by the bootstraps, help them recover and really encourage them to plan for what's coming up.
"Alarmingly, only 27% of SMEs have written financial forecasts of business plans that have been reviewed as a result of COVID-19 outbreak"

10th June 2020 ACCA and The CFN

Businesses should be reviewing their financial situation monthly, or even weekly in times of crisis. Those small businesses that don't have Financial Directors are turning to you, their accountants, for guidance. Cash flow projections are needed for SMEs so that they know if they are going to make payroll and repay their loans.
Now more than ever, lets join forces to help the SME economy recover.
"Playing our part is one of the most important things any of us will ever do. And this is what all of our experience and all of our training has been for. We must now use every ounce of our professionalism to make things better for businesses, employees, families, communities and the economy as a whole"

Steve Pipe

What's the Point?
What do we want you to do?
Check in with every single client.
How many of your clients come back to you and asked for help and business plans/projections? Do they know they need it?
Prompt the conversation on projections
Resources coming soon in the #LeaveNoBusinessBehind Skills Hub on how to have that conversation
See what funding and other support they need
What do you need to do with the results of your client's forecast, now we know what they are heading towards.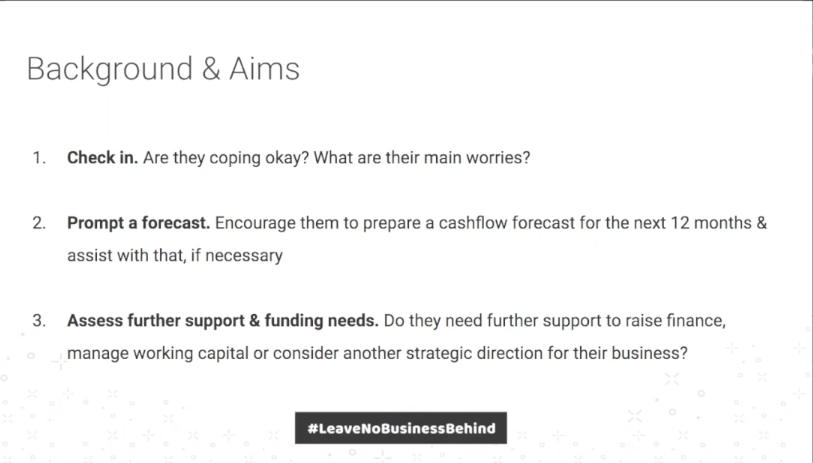 CBILS and the Bounce Back Loans have had an extraordinary impact but they are due to finish in September. Whilst we are advocating for this to be extended, the reality is, most businesses are walking into this thinking that this cheap funding is going to be there for ever more. Over 1 million businesses have drawn on the Bounce Backs Loans and over 50,000 on the CBILS. Once the sugar rush of cash crashes, funding will be at commercial rates. There is a clock on this and we need to be mindful that businesses are asking themselves the tough questions around the reality of their post September world.
The Skills Hub
By pledging your allegiance to the #LeaveNoBusinessBehind cause, you will get free access to education and resources for you and your team in the Skills Hub. In the Skills Hub you will find; cheat sheets, notes, case studies, telephone scripts, help with time to pay, recommendations on which software to use for projections and cashflow, book recommendations, webinar resources and a whole community who has your back. There are also practical videos from experts in the accounting industry on how to communicate effectively with your clients. These video snippets include:
The Pledge
We are hoping that the CBILS scheme will be extended but we are running out of time, and all the while, self employment numbers are dropping.
Rather than sending out newsletters and resources to your client list, we are urging you to have one-to-one dialogues with each and every client using the resources available to you in the Skills Hub. As Shane Lukas, AVN says; "We don't need to know the answers, we just need to know to ask the questions".
"There was never any doubt in my mind that accountants change lives, so I am thrilled to play a part in #LeaveNoBusinessBehind. Businesses need it, the world needs it and accountants really can do it and be enormously proud of the impact they are creating for businesses, families communities and our world."

Paul Dunn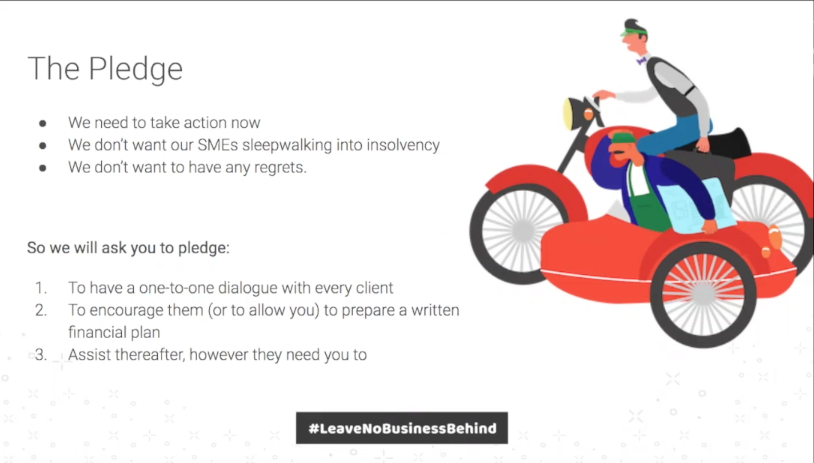 Why aren't SMEs getting Projections/Forecasts?
Clients don't want to face up to the reality of it all
Clients may not realise they need them
Accountants don't want to push themselves on the client
They don't have time to complete them
They're worried clients think they're trying to sell in more fees
As their advisor, we need to rise above these worries and encourage them to get them done! "Lets start to do this on steroids!" Kirsty McGregor, The CFN.
Bigger Picture
In 2015 the UN set 17 global sustainable development goals. (PRE-COVID!) The objective was to achieve these by 2030 and campaign to leave no-one behind. Whilst poverty, inequality, hunger all seem like global issues. Policy is an effective programme for making change. Change starts at grass roots, and it's the hard working, grafters from all around the world that will achieve these from the ground up.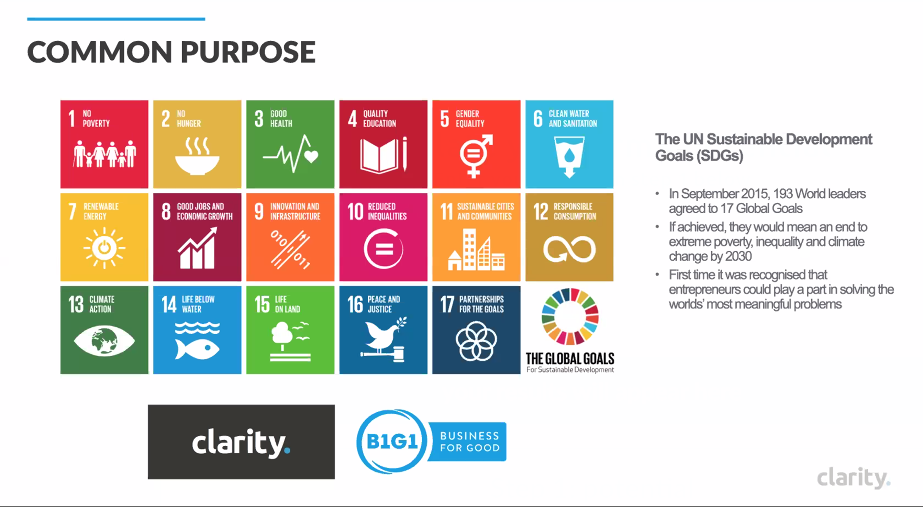 At the 20th World Congress for Accountants in Sydney – the message was clear: "The risks from environmental, social and economic crisis are clear to see. Not just for our planet and society, but also the future resilience of the global economy. Finance leadership and innovation are essential to the changes needed to tackle these risks and create the businesses of tomorrow".
Financial leadership – that's you, that's me, that's us

Paul Surtees, CEO Capitalise
Bringing together all of the knowledge we have into the grass roots and the companies that surround us, we should feel a deep sense of responsibility to go out and help the businesses in the UK.
Next Steps
Make your pledge to get access to the resources in the Skills Hub.
Share the campaign with your colleagues and clients
Pick what you need, or use it all!
We're all in it together. Look back on this time with pride and give it all you've got.

#LeaveNoBusinessBehind.
---
Clarity is a global platform that combines the power of cutting-edge technology and proven award-winning systems to enable our members (accountants, bookkeepers and advisers) to create, package, price and deliver added-value business advisory services to their small business clients. By doing this, we help them increase revenue by 50%, net profits by 125%, engage their team, free up time and create freedom – helping their clients to do the same along the way.
If you don't believe those numbers, check out our calculator here. You can play with your own numbers to see your firm's potential and take our new Success Factor quiz to understand your firm's success factor score and ability to thrive here.
And don't just take our word for it. Check out some 5* reviews here and what our members say here.