Right now, your firm is in the perfect business advisory storm. Businesses are ready to thrive once more.
Your clients want and need your help following the effects of COVID19 and the ability to help all of your clients is now available.
What's interesting is your team are actually already helping your clients with business advisory outcomes. They are helping them understand their numbers, make better decisions and build a better business.
It's just coming from survival at the moment, instead of a place of thriving.
The biggest problem right now though is the help you're delivering isn't sustainable. You are working all hours to service as many clients as possible. Perhaps you've even had to make a tough decision that certain clients aren't physically able to get your help right now.
So how do you and your team help ALL of your clients thrive? And not just the top 10% as it's typically been. How do you do so in a profitable and sustainable way?
It starts with you. You need to look at your own firm first.
the thrive model
There are three key areas to look at; People, Process and Clients. Within each of those three key areas are another three elements. We call this the thrive model.
By working through these areas not only will this generate more time, more profit and freedom for you, it also helps you to speak to clients with authenticity. Allowing you to provide proof when helping clients by explaining the result you achieved when you implemented the same actions that you're suggesting they implement.
And you only need to be one step ahead to help your clients.
Below is a synopsis of the thrive model: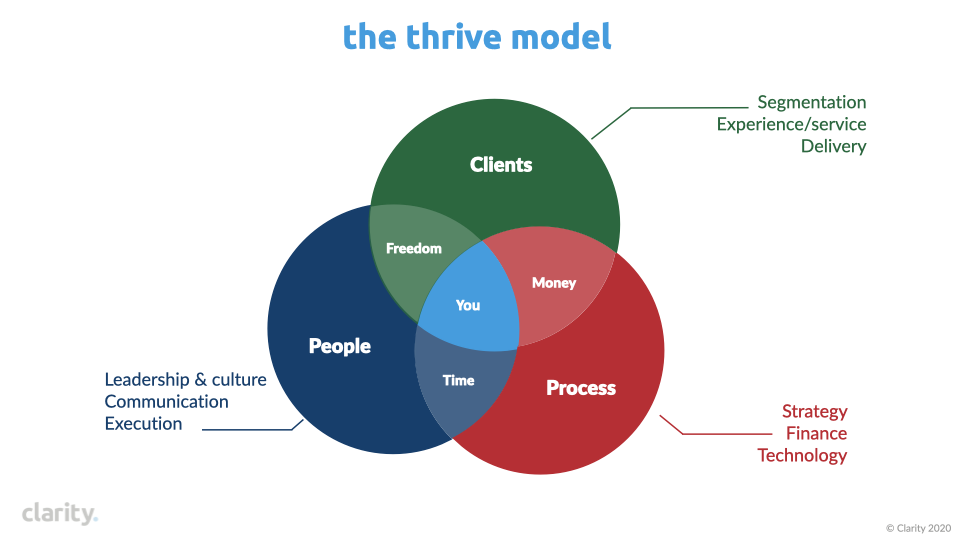 people
Leadership and culture – leading from the front and making sure everyone in your firm are aligned with a culture. And so helping you achieve your goals and solve your clients' problems.
Communication – working in a way that ensures 360 communication to the right people and at the right time.
Execution – taking action on the important tasks and holding people accountable to get things finished.
process
Strategy – having the right systems and processes in place. Making sure all of the departments of your firm are aligned to achieve your goals as well as having a plan to deliver them.
Finance – having the right business model. Understanding where your firm is now compared to where you want it to be and using the numbers to make better decisions to get there.
Technology – using technology as a tool to do the heavy lifting, working in conjunction with your team, and not using tech for tech's sake.
clients
Segmentation – identifying the right clients and matching them to the right service whilst communicating this with them.
Experience and service – ensuring all clients get a great service as well as an amazing experience that they tell others about.
Delivery – providing the service in a cost effective, efficient and profitable way that solves the clients' problems as quickly as possible.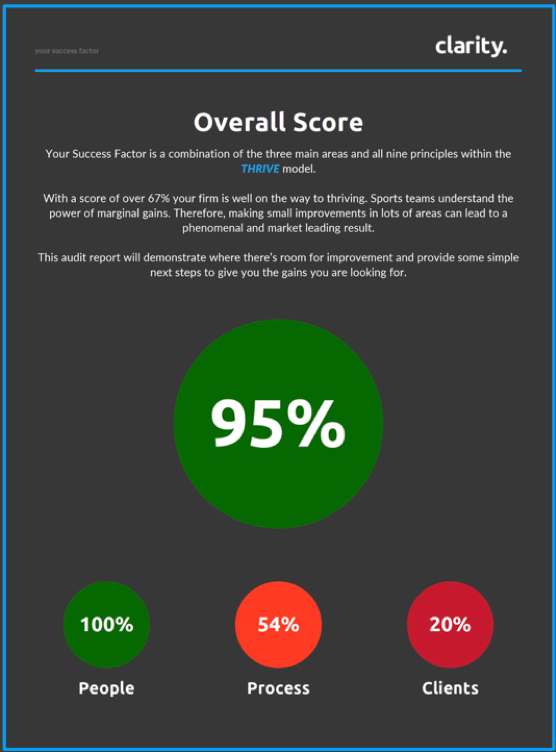 Now that you have a clear framework of what you need to do in your firm, you need to understand where your firm is on this journey in each of the key areas: People, Process and Clients. To do that you can take our success factor quiz.
How well is your firm set up to thrive? Take the quiz here.
In less than five minutes you'll have a detailed report explaining where your firm is currently and what you can do next to help your firm, and your clients, truly thrive. Even during the effects of COVID19.
Take the quiz – Find out your success factor today
---
Global advisory solution
Clarity is a global platform that combines the power of cutting-edge technology and proven award-winning systems. It enables our members (accountants, bookkeepers and advisers) to create, package, price and deliver added-value business advisory services to their small business clients. By doing this, we help them increase revenue by 50% and net profits by 125%. We help them engage their team, free up time and create freedom – helping their clients to do the same along the way.
Think those numbers are too magical? Check out your own using our calculator here. You can play with your own numbers to see your firm's potential and take our new Success Factor quiz. Understand your firm's success factor score and ability to thrive here.
And don't just take our word for it. Check out some 5* reviews here and what our members say here.