Starting this November, #TeamClarity are going to be focussing on one of the 17 Global Goals each month. To raise awareness for each #GlobalGoaloftheMonth we may set a challenge in line with the goal. Or we may simply ask our global community to think about the goal in relation to their everyday lives.
Whether or not we share a challenge or an article linked with the #GlobalGoaloftheMonth, what will remain constant is the opportunity to give back to associated projects through our partnership with B1G1.
These projects will be updated each month in line with the Global Goal.  Of course, you can give as much or as little as you like to these projects through our link. Alternatively, you can support different projects or local charities that are close to your heart.
As a reminder of why we're doing this, and what the 17 Goals are, here's a quick video:
Global Goal #3: Good health and well-being
To kick off #GlobalGoaloftheMonth, we are focussing on Global Goal #3: Good health and well-being. It seems appropriate right now to come together in the name of local and global health!
Did you know that less than half of the global population is covered by essential health services? (2017)
It goes without saying that the COVID-19 pandemic has had ginormous implications on global healthcare. The pandemic has interrupted childhood immunisation programmes in around 70 countries. These healthcare disruptions could reverse decades of improvements.
In addition, there is a huge threat to our health. Our mental well-being is being tested as many workers across the planet are being advised to stay at home and limit contact with friends and family.
Tools such as zoom and teams are fantastic for us to connect virtually. But the physical and mental impact these restrictions and lockdowns are having on our minds and bodies cannot be ignored.
The United Nations have pulled together a brilliant and comprehensive article detailing the progress we have made and the challenges we are coming up against (pandemic or not) for Goal #3 here: https://unstats.un.org/sdgs/report/2020/goal-03/.
We encourage you to spend 5 minutes of your day reading up on what good health and well-being means to other people around the planet, in different circumstances, economies, climates and situations than you.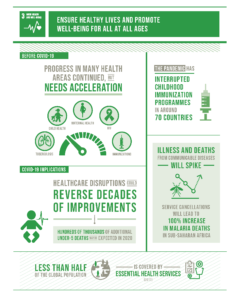 We'd like to challenge our community to think about how the pandemic has affected the health and well-being of ourselves, our team and our associates.
How are you coping physically and mentally with your local restrictions?
What can you do to enhance your team's working from home experience?
In the UK, drastic measures were enforced over six months ago, which are really starting to take their toll on the workforce and family/life balance.
Here are three resources and ideas for you to think about in relation to Global Goal #3: Good health and well-being.
For the Digital Accountancy Week Small Firm's Festival, Aynsley Damery, CEO of Clarity spoke with James Bryne of Accountancy Manager on "Digital Leadership and Culture Shifts". They discuss digital leadership in this new era and how workplace culture in accountancy practices matters more than ever. This is a fantastic resource for all businesses (not just accounting firms) to learn from. Perhaps you could introduce some of the "online culture" measures they discuss: https://www.asset.tv/player/insure-tv-player/107979
Plan now for a future health challenge. Why not formalise the "January health kick" as a team and co-ordinate a step challenge? The benefits of a step challenge are endless; shared motivation, boosting employee productivity and performance, team building and employee morale, more energy, better sleep, fresh air… the list goes on! And it's a way for us all to connect without physically being in the same office. New Year, New Me can be New Year, New US!
Watch this awesome video from our good friend Steve Pipe for a very special offer. Get in touch with us on [email protected] to get your free copy of OUR TIME TO RISE (worth $45 on Amazon!).
How you can support us this month:
Of course, the first way to support #TeamClarity is to give back to one of the five incredible projects we've linked to on our B1G1 giving page: https://www.b1g1.com/business-account-profile/593

Please tag us in any upcoming plans you have to connect with your team. Either through virtual water-cooler sessions, step challenges or anything else you've come up with! Tag @clarity_hq on twitter or the hashtag #GlobalGoaloftheMonth

We'd love to hear your stories and what comes out of your team session on the Global Goals. All causes are worthy causes, so if there's a local charity that you'd like to support instead, please let us know and we can learn from you.
Finally, we are so excited to share the Global Goals with you each month. Together we can create a better business, a better life for our family and friends, and ultimately, a better world.
P.S If you'd like to set up your own giving page or simply want to find out a bit more about how B1G1 works, click here.