Senior Business Development Manager Kelly Hurst shares her personal story and connection as to why she is leading the charge with Zero Hunger as Clarity's #GlobalGoaloftheMonth.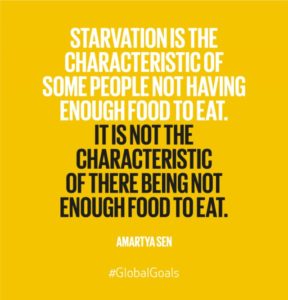 "We are all sadly becoming more and more used to death counts being broadcast as daily news. However, this is all COVID related. Did you know that hunger is the leading cause of death in the world?
Our planet provides us with tremendous resources, but unequal access and inefficient handling leaves millions of people malnourished. In reality, if we were to promote sustainable agriculture with modern technologies and fair distribution systems, we could sustain the whole world's population and make sure that nobody ever suffers from hunger again.
It breaks my heart that that there are people going hungry in the UK. We are the 4th richest country in the world. As part of Clarity's #GlobalGoalofthemonth campaign, I want to highlight UN Sustainable Development Goal #2 "Zero Hunger for the following reasons;-
Over the last five years, the number of emergency food parcels provided to people in crisis by food banks in the Trussell Trust's network has increased by 73%.

1.5 million Britons reported not eating for a whole day. They had no money or access to food. Some 3 million people in total were in households where someone had been forced to skip some meals. 

During the pandemic, children that usually eat their most nutritious meals at school are going hungry due to no longer having access to free school meals. The government help has been hugely criticised for what has been sent to these children, resulting in footballer Marcus Rashford starting a petition for this to be addressed.

Why this is important to me?
This issue should be important to everyone regardless of their up bringing. But for me personally, I remember being a kid and relying on free school meals. When my Mum became a single parent of 4 children, eating at school became extremely important. I was oblivious to the struggle when I was a child. But other children are not that lucky, and also physically feel the pain of going hungry.  It is not right that this is so common in the 4th richest country in the world. This is not just happening to children in far away countries. This is happening at the bottom of your street without you realising it.
Challenge
I am going to raise as much awareness this month by promoting food bank collections. I'll also challenging myself to give 28 items to a food bank at the end of February, one item per day. I encourage others to also try this and get involved!". 
Each month #TeamClarity raise awareness of one the Global Goals that is close to our hearts. By highlighting the issues and challenging the global #ClarityCommunity to think about our world from a different perspective, we hope to inspire small changes to daily habits that, in the end, cause a positive impact. Members of the Clarity team are joining Kelly's challenge for February. However, there is no pressure for others to do the same. As the global giving movement B1G1 has helped us realised, you don't have to do (or give) something huge to create an impact.
There are other ways that you can support the Zero Hunger targets:
If you would like to join us by supporting your local food bank during February, please do let us know by tagging @clarity_hq on social with the hashtag #GlobalGoaloftheMonth. We appreciate during this lockdown you may be facing restrictions such as online food shopping or minimal trips to the shops. To reiterate, anything you can give to a food bank, no matter how small, will still have a huge impact. Click here to see the types of things you can donate or check out an example shopping list below. The Tressel Trust always welcome donations and promise to use them to provide help to adults and children in crisis. Take a look at what's in a food parcel to see what items to donate, and don't forget that food banks also accept essential non-food items such as toiletries and hygiene products, helping people in crisis to maintain dignity and feel human again.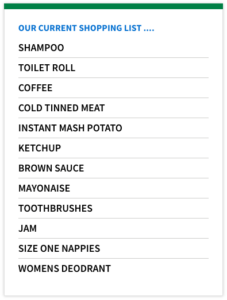 Share this blog with your family, team, slack group. Read about the struggles your neighbours are facing during lockdown and home-schooling. As we highlighted in last month's #GlobalGoaloftheMonth – Climate Action – we often mistake the wider issues to be problems in other countries. But in reality, there is so much poverty on our doorstep. There is so much we can (and should) do to sort ourselves out before we preach on other countries!
Check out the projects #TeamClarity have chosen to support this month through B1G1. Proof that a little can go a long way! One of the projects in our #GlobalGoaloftheMonth campaign is particularly close to home for #TeamClarity. The Wiggly Worm Charity are based in Cheltenham and are doing wonders by creating opportunities for life through food.
_____________________________________________________________________
Clarity HQ
The Clarity platform is empowering all of your team to deliver business advisory to all of your clients through our out-of-the-box solution. We provide accountants with the tools to scale advisory, that is appropriate for both the client and the fee involved. So, by making business simple, Clarity offers a conversation starter that empowers all members of your team to introduce advisory to 100% of their client base.
Finally, if you would like to speak to a member of the team, contact us on [email protected] for more information.