#GlobalGoaloftheMonth
Driven by David Attenborough's Life on Our Planet. Inspired by Captain Tom Moore's 100 lap garden challenge and many others during lockdown. Motivated to bring people together like the national volunteer movement that we have seen throughout the pandemic. We are now asking you to get involved in Clarity's #GlobalGoaloftheMonth challenges in line with the United Nations Sustainable Development Goals.
Launching this November, each month #TeamClarity will focus on a different UN Sustainable Development Goal. Building awareness of each issue and making as many impacts as we can worldwide, made possible through our partnership with the amazing B1G1.
But before we jump straight into the nitty gritty details of the monthly challenges – #TeamClarity want to share the MEANING behind the launch of this movement. What are the UNSDGs? WHY it is so important to us. Why it should be important to you and, most importantly, HOW you too can become a Business for Good.
In the video below Aynsley and Amy chat with our very own David Attenborough of the accounting world; Paul Dunn. Through Paul and Masami's global giving movement B1G1, #TeamClarity (and you) have the ability to support the United Nation's Sustainable Development Goals, one bit at a time. Please watch our short 15 minute video to learn how one just ONE entrepreneur can contribute towards the UNSDG's and create a HUGE impact.
How can you get involved?
Every month we will be supporting a different Sustainable Development Goal and each time we will be devising a challenge or project that the Clarity team will be taking part in. We will be inviting you to take part with us. 
Join the challenge with us – s

hare and engage on social using the #GlobalGoaloftheMonth

Commit to the project or dedicate a small portion of your day to learn more about this month's #GlobalGoaloftheMonth

Support the cause by giving a little to the chosen charities (You can do so through Clarity's giving page, OR, of course you can create your own Business for Good for your team)
Create an impact by supporting a local charity that is close to your heart. There are no restrictions when giving back!
A little can go a very long way. 
"#GlobalGoaloftheMonth is yet another brilliant initiative from the guys at Clarity. I've known the team for many years and they truly are doing ground-breaking stuff. I'm passionate about the Global Goals, as are they, and this movement is a fantastic way to factor the Global Goals into what we do everyday – not just as business owners, but as human beings too."

Steve Pipe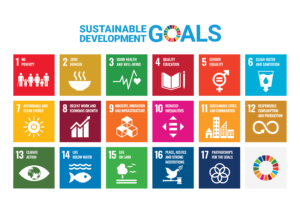 What is B1G1?
B1G1 started with a very simple idea: ''What if every business could make a difference everyday, just by doing what they normally do.'' More than a decade later, this simple idea has now become a global movement. 
Some 2,500 businesses around the world now support B1G1, making an impact all around the world.
They're on a mission to create a world full of giving. And it's a mission that we are proud to have been a part of since the day we started.
Accountants uniting around the world
Over the past few months, we've seen accountants collaborating and supporting each other more than ever before. We want to harness this energy and teamwork to bring the industry together to impact the world.
This is going to be fun; it's going to be rewarding; and most importantly, you'll be making a difference.
We can do this alone. But together we can do so much more.
Before you go – here's a reminder of how you can get involved with us each month 👇