Advisory services are often confused with consulting. But in reality, consulting is just the cherry on top of the advisory cake. Clarity has broken that cake down into the 5 levels of small business advisory.
5 Levels of Business Advisory

Awareness
The first level of advisory is simply awareness. Awareness is then broken down into 3 sections:
Knowing where your clients are now. What do their key numbers look like today. Their line in the sand.

How?

Add your client to Clarity, integrate their numbers with Xero or Quickbooks Online (or manual entry) and review their 7 key numbers.

Where your clients want to get to. What are the goals and ambitions of your clients from a business and personal perspective.

How?

After showing your client their numbers and where they are today (preferably on video), have a conversation about what they want to achieve as a business. Show them the potential results that small and large changes to their key numbers can have on their profit and cash balance.

The gap. What is the gap between where they are now and where they want to get to.

How?

Build out an action plan using Clarity to help your client see a path to achieving those goals.
Awareness can be delivered by staff of all levels in your accounting firm.  It is simply following a process. Clarity has done most of the hard work for you.
Accountability
"The American Society of Training and Development (ASTD) did a study on accountability and found that you have a 65% of completing a goal if you commit to someone. And if you have a specific accountability appointment with a person you've committed, you will increase your chance of success by up to 95%." 
The accountability level is about working with your client (on an informal basis) and holding them accountable to completing the action plan you have put together. Regular check ins and updates are crucial. The stats are undeniable. If you have an accountability-buddy, you are 95% more likely to achieve your goals. 
You, as the accountant, can be that buddy. There is astonishing power in holding them to account.
The beauty of accountability, as with awareness, is that it can be delivered by all members of staff.
Insight
Insight is often confused with or grouped together with awareness. But there are clear differences. 
Both are identifying an understanding of what is possible, yes. However, insight goes much deeper.
Insight looks at why other people and businesses achieve success. It looks at what numbers can be achieved and how. The how comes from deeper experience and knowledge of the adviser.  It comes from benchmarking against businesses from the same industry or similar structures and sizes. And it comes from anecdotes of where you have helped other clients in the past to achieve success and progress. 
You can offer insights into how other businesses have implemented new systems and processes. Or how others have had success with marketing campaigns or social media. How about some advice on recruitment or even support with interviewing potential new recruits. 
Use Clarity's agenda system to help to deliver this level of service.
Planning
It is at this level of service that we recommend you consider looking at reporting apps, such as Futrli. 
Planning is all of the above and can be the following:
Business modelling

Budget and cashflow forecast creation

Track detailed or standard KPIs for the business

Holding monthly budget, cashflow & KPI tracking sessions using Clarity agenda system

Benchmarking and deeper analysis
Consulting
Concluding our 5 levels of business advisory and the final piece is consulting. Hopefully you can see now, how much more there is to advisory than just consulting.
Consulting is deep business advice or business coaching, completely bespoke to that particular client and industry. It is practically working as a part of the business to look at and improve the business holistically.
Only the most experienced partners are likely to have the confidence and abilities to deliver this type of service. Hence, it's the cherry on the top of the advisory cake.
How do you price small business advisory?
At Clarity we like to do most of the hard work for you. We know you're busy and time-poor, so we want to make things as easily as possible for you to implement.
These are our suggested packages and pricing for your clients for each level of advisory.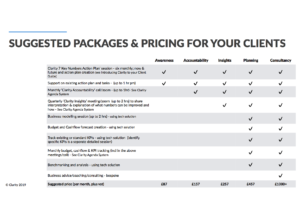 Implementing and scaling advisory in your accounting firm
Now you know all of the levels of small business advisory and who can deliver each, what do you do now?
Sign up to Clarity today and you'll receive your first 14 days completely free of charge. You'll also get a free gift. We have put together a 14 Day Quick Start Guide to show you how you can get up and running as quickly as possible. 
Don't believe us? See how Clarity member, Graeme Tennick, increased his gross recurring fees by £42K in his first two weeks: https://clarity-hq.com/clarity-case-study/
Still think it's all too magical? Why not try out our Clarity calculator and see what the potential ROI is for your own business in scaling your advisory services: https://clarity-hq.com/calculator/