Want to know what our #Clariteers are saying about us?
If you're on the fence about joining the #ClarityCommunity and want someone else's perspective who isn't part of the team (!), have a read of Jamie's reasoning behind why he got involved, and what he thinks of us and our vision.
What do I think of the Clarity project?
The Clarity project came on my radar when I was at Accountex, I went to a Hubdoc after party where I met Steven Briginshaw. I'd come across Steven before through the network that we were in. We were networking in the same circles. Steven started talking to me about blockchain and what the possibilities were with blockchain, and started talking to me about the Clarity project, and what he was trying to do there.
It just blew my mind really. It blew my mind as to what was possible with blockchain technology, and also how Clarity fitted within that. That's what got me excited. The fact that it's all about building a better business, a better life, and a better world meant that the business has purpose. It's linked very much with B1G1, which is something that I'm very passionate about, and giving back to the world, which is absolutely amazing.
Paul Dunn and Masami are leaders in that area. It's a fantastic thing, and to think about the impact that could have not just on the business community from Clarity, the knock-on effect that that would then have with other blockchain projects, other ICO projects that will see what Clarity are doing, and hopefully get inspired to do the same.
I thought, "This is something that I've got to get involved with." Well, not just got to get involved, I HAVE to get involved with this. This is amazing. What the Clarity project does for the business community, or is going to do for the business community, and as the platform evolves it's going to be a game changer.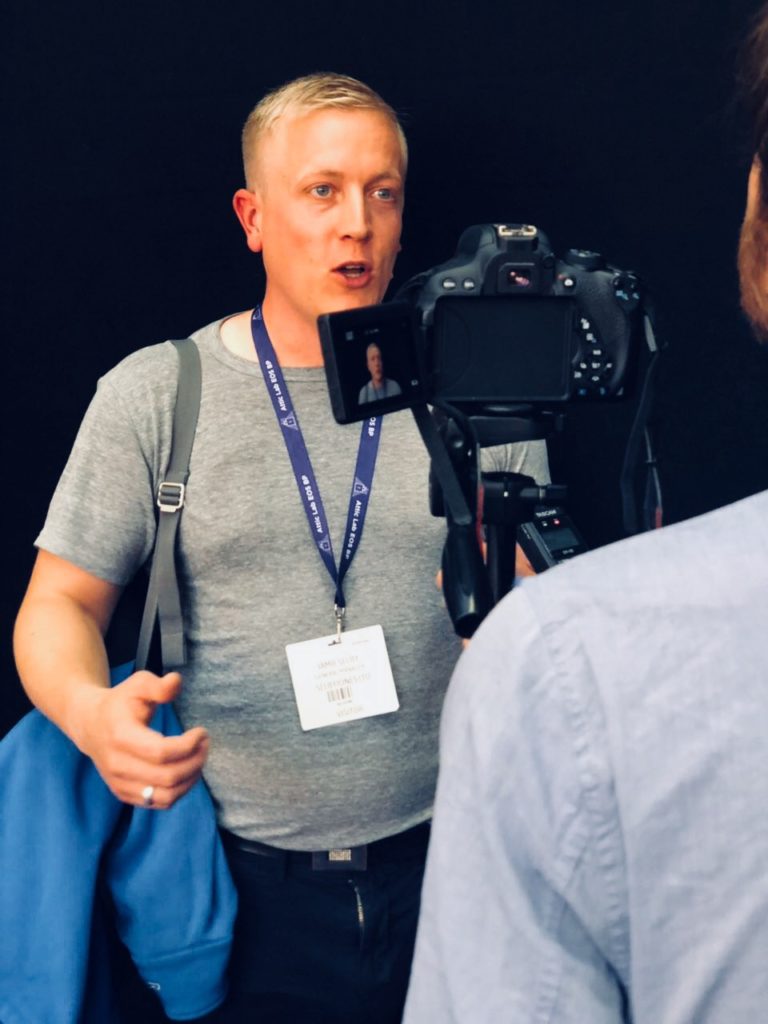 That information sitting on the blockchain, with smart contracts, with the ability for businesses to have access to financial dashboards and then for financial institutions to then be able to access that information via the financial dashboards, via smart contracts, and, again, the information being on the blockchain is just mind blowing. It is going to be such a game changer for small businesses worldwide really.
As the platform just gets leveraged and pushed out more and more, and, again, evolves as a business, I think Clarity are just touching the surface as to what they can actually do. I think they can do so much more than what they're planning to do in their Whitepaper.
I don't admit to understanding all of it, but the fact that your information will be accessible by financial institutions to go, "Well, actually these businesses already prequalify for funding. We can see their financial information. They're meeting all our financial KPIs," that's going to give additional funding into the small business world, which will be absolutely epic.
Again, I can see the business evolving into a machine. I know they've got a very unique client acquisition strategy, which I quite like. I think going to the accountants and acquiring clients en masse is going to be huge for the Clarity project. I think that's really going to create a lot of demand for the Clarity platform.
I love the name. I love everything that they're about. Aynsley and Steven I've been following for a while. Aynsley's run an award-winning practice, so has Steven. It's just an amazing project. I don't know how else to put it. It's a fantastic project. You need to get involved with something like this.
You either get involved or you get left behind. That's the way I see it. There is always a change curve. You can either be in front of the change curve or at the end of the change curve. It's up to you. Hopefully that answers that question. Basically it's amazing.

Why have I got involved with the Clarity Project?
Well, I think it's one of those things in life when I'd just sold my accountancy practice. I'd just met Steven. Everything just seemed to fit in line, and just fell into place, almost like it was fate. I'm a great believer of you create your own opportunities, but sometimes when opportunities land on your lap that just light you up, they connect with you on every level.
On a business level I completely get what they're trying to do. On a global level, the global impacts that they could create with the Clarity platform, I just think, "Wow. This could create millions and millions and millions of giving impacts." These micro giving impacts could be days worth of water, could be meals for the day, could be vitamins, could be dog vaccinations. The opportunities are endless.
Focusing on the 17 UN sustainability goals will be amazing. It's something we've all got to be aware of as business owners that more and more people are asking to get involved with businesses that have a purpose other than just making profits.
I think the team are very well known in the accountancy world. They've been known to create success, and I just see this amazing future for the Clarity. They're at the front of this curve. Yes, they're going to make mistakes. Yes, they're going to have things that they might roll out on their platform that might not work as well as we think. They're at the start of this journey.
In two, three, four years time the Clarity platform will be a major, major player within the accountancy world. Get involved with the Clarity project as soon as you can, because if you don't you're going to miss out. You're going to miss out on an opportunity of a lifetime.
Yes, the crypto market is on a bit of a low. We're in November 2018, and the crypto world has taken a massive, massive hit. Like anything, you look at the internet back in the 90s and where that was, it went through the same thing. It had this massive growth curve, went on a massive loss curve. It's not going to work. The internet's not going to go mass.
Everyone was like saying, "It doesn't work. It's not a good idea, blah blah blah blah blah," and then lo and behold I don't know how many people are online now, but there's said to be even more next year and the year after that, and the year after that, and the year after that, which is just mind blowing. I just love everything about the Clarity project.
I love the team. I love what they're trying to do. I love the fact that they have that purpose. Being an accountant myself I see how their platform is answering a huge problem. I also see how it's going to help accountants start to use cryptocurrencies, and that's where the Clarity coin will become, I don't know, I'd like to think it'd become a mainstream currency within the small business world.
The Clarity platform is a gateway for them to get users and get people using the currency. The more people using the currency, the more people that are subscribing to the platform, the more people then trading in that currency. The opportunities are literally endless. We're only on the cusp of the start of this journey that is just going to be absolutely epic on huge proportions.
I'm really excited to be a part of the Clarity Project and to be an early investor. I'm hugely excited. To be quite frank, I don't care whether the money is lost, because ultimately sometimes you just have to follow your heart. With this project, I certainly followed my heart because it's a project close to my heart.
With the giving impacts that they're going to create and just looking at the sustainability. I love the team. I love everything that they represent, and I think they're going to go on to bigger and better things.
Watch out, the Clarity project is coming. It's here to stay.
If you'd like to get involved or want more information about our private sale, get in touch on [email protected]