Q1 2020 Clarity Software Update
Check out the latest updates for the Clarity Community on the Clarity platform in our Clarity Software Update. Keep an eye out on our social channels for feature releases in real time. We will also be putting together a feature timeline for a summary of some of our bigger releases, so that you know what we are working towards. If there are features that you would like to see implemented that you can't see on the roadmap, please get in touch with #TeamClarity on [email protected]
Recently Released 
Rolling 12 month calculation mode
Pre-populated company info 
Action plan drag and drop
Load speeds
Action plan pdf download re-design
Cash balance inclusion
Rolling 12 Month Calculation Mode
Clarity partner firms who have clients in seasonal or rapid growth businesses will benefit from this update. This mode calculates the 7 key numbers on a rolling 12 month basis, provided there is at least 12 months worth of data plugged into the Clarity platform through Xero or QuickBooks online. If you have 24 months worth of data plugged in, the it will compare the current years figures to the previous 12 month rolling figures. These comparison changes will appear in red or green (hopefully green!) in the top left corner of each of the 7 key number boxes.
Pre-populated Company Info
On-boarding and mapping your clients onto the Clarity platform only take 5 or so minutes. And with the latest update setting up your clients just got that tiny bit easier and quicker. Clarity now pre-populates the company name and year end month from Xero or QuickBooks Online during the set up process. 
Drag and Drop
Prioritise, edit & assign tasks in the Clarity platform in action plan section. This update allows you to drag and drop your tasks in order of importance to structure your step by step action plan for your small business clients and your team. Watch our demonstration video here: https://www.facebook.com/clarityhq/videos/3107124915967618/ 
Load Speeds
The development team have been working very hard on speeding up the load times to make them quicker and smoother for the users. This is particularly helpful to keep the flow going during your Clarity 7 Key Numbers meetings with a prospect or Accountability client.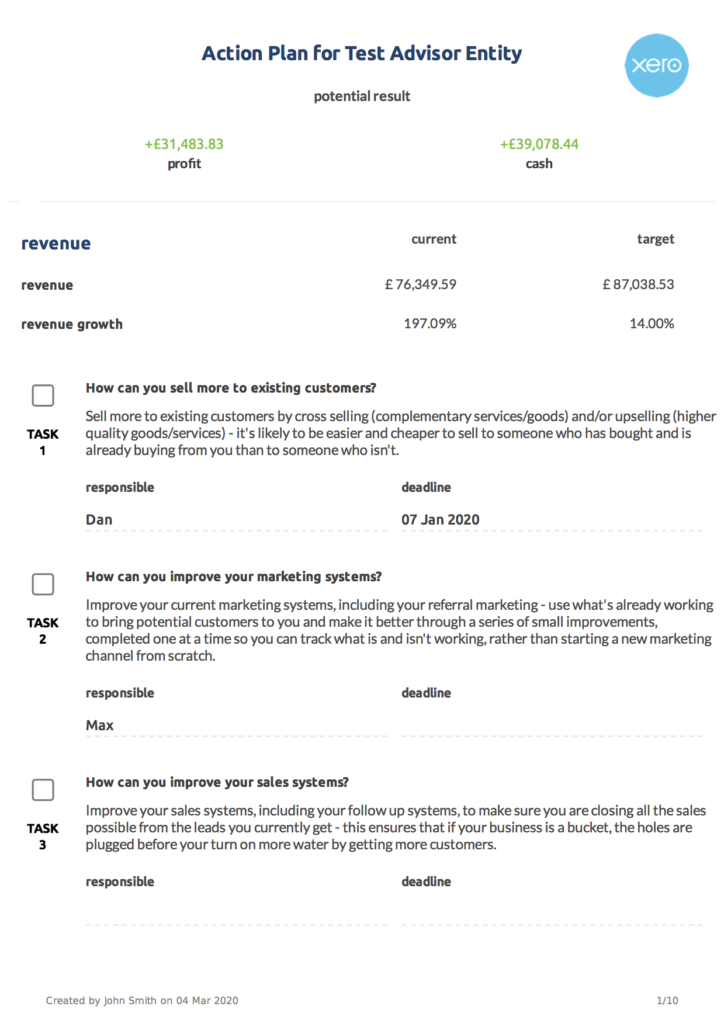 Action Plan PDF Download Re-Design
The download function of the action plan PDF has been completely rebuilt. This re-design has been requested by members of the Clarity Community and we are pleased that the rebuild has resulted in the ability to add your own partner firms logo on to the document before downloading. Making it more personal to you and your firm, and recognisable to your clients. 
Cash Balance Inclusion
Finally, actual cash balance is now included in the Core Cash Target key number in the 7 Key Numbers screen. This is immensely useful for all team members to refer to as it helps make it easier to identify the funding gap for your client. 
Upcoming Adjustments 
As you can imagine, there has been a huge number of instrumental adjustments going on under the hood for the Clarity platform. And we have some even more exciting updates and enhancements coming up for release in Q2. 
---
Clarity
The Clarity platform is empowering all of your team to deliver business advisory to all of your clients through our out-of-the-box solution. The Clarity platform provides accountants with the tools to scale advisory, that is appropriate for both the client and the fee involved. By making business simple, Clarity offers a conversation starter that empowers all members of your team to introduce advisory to 100% of their client base. If you would like to speak to a member of the team, contact us on [email protected] for more information.