This quarter, #TeamClarity have focused on enhancing our existing products within the Clarity platform. Clarity HQ grew from strength to strength in 2020 with huge developments added to the portfolio for accounting firms. Features such as Portfolio View, Financial Plan and Funding by Clarity were all rolled out in Q3 and Q4 2020. The development team have worked continuously to improve these features for our accounting members. So that you can streamline your advisory services and continue to grow your firm and help your clients succeed. This is our Clarity Software Update Q1 2021.
Clarity Software Update Q1 2021 – Recently Released
7 Key Numbers Update

Financial Plan Update

Funding Plan Update

Firm Licence Update

Portfolio View Update
7 Key Numbers Update
A very popular update to the 7 Key Numbers screen with Clarity HQ. The flipping tiles function builds confidence for you and your team knowing where the numbers have come from. Your small business clients are also able to understand how the numbers got there in a more visual format. On the flip side of the tiles, we have now included a mini trend analysis to further support your advisory conversations. Caution: it is addictive!
In addition to the copying of previous months figures function that was already live in the Financial Plan product feature, we have added an adjustment function. This allows you to adjust the numbers by an incremental amount or percentage.
Funding Plan Update
Following the launch of Funding by Clarity in December 2020 and our partnership with Capitalise, you can now login with using your Capitalise account (if you already have one) or, you can create a login for free. In case you missed it, Funding by Clarity (powered by Capitalise) allows you to proactively highlight funding requirements (before your client comes to you) and help them get funded in three quick and easy steps. Read more here.
*Don't forget, as we come to the end of March 2021, our friends at Capitalise want us to remind you that Recovery Loans are not the same as CBILS! There is still time to apply for CBILS up until March 31st.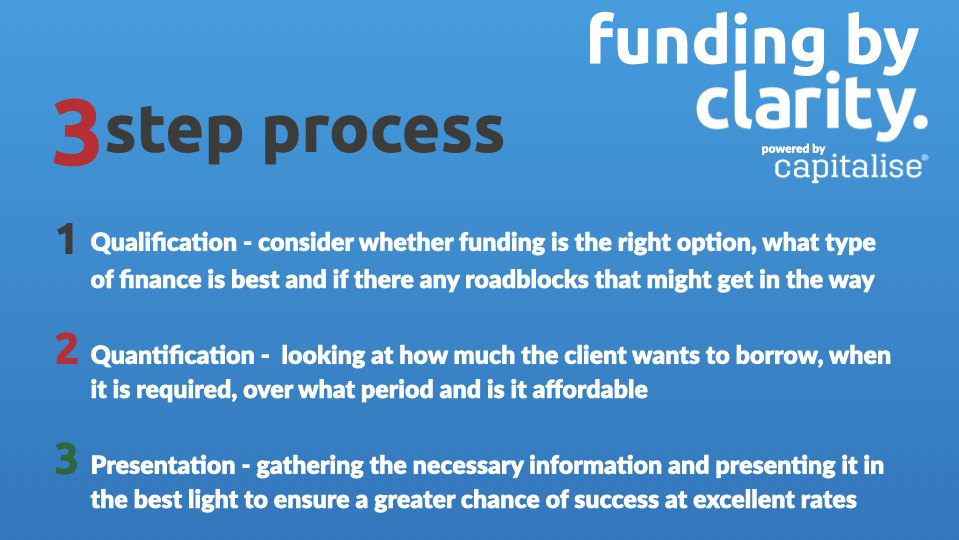 Firm Licence Update
Clarity Advisor licenses at Starter or Starter Plus membership level now get full access to everything within the Clarity platform for the accounting firm. This means that the accounting firm login can use and benefit from the Financial Plan and Funding Plan features of Clarity HQ to work on their own firm and numbers. 
Portfolio View Update
Clarity's Portfolio View has had a performance update, with improvements made to the speed and loading times for ease of use. This enhances the member experience especially when members have their whole client base uploaded into Portfolio View ready for segmentation, triage and benchmarking.
Upcoming Adjustments
We have two major updates coming up in Q2 2021. These will have an immense impact on our member experience, for the whole #ClarityCommunity and for your clients. Our integration with Sage is currently live, but come the Spring, we will be going to market and will be featured on their marketplace for partners to connect with. In addition, a much more dynamic action plan set up will be rolled out in Q2. This will include features such as project management tools, alerts and an inbox for your task management.
_____________________________________________________________________
Clarity HQ
The Clarity platform is empowering all of your team to deliver business advisory to all of your clients through our out-of-the-box solution. We provide accountants with the tools to scale advisory, that is appropriate for both the client and the fee involved. So, by making business simple, Clarity offers a conversation starter that empowers all members of your team to introduce advisory to 100% of their client base.
Finally, if you would like to speak to a member of the team, contact us on [email protected] for more information.