An update to the traditional accounting business model
The old adage goes, 'if it ain't broke, don't fix it'. Arguably the traditional accounting business model of ⅓ salaries, ⅓ overheads, ⅓ profit is broken. Partly because in practice firms aren't hitting anywhere near that. In truth firms can do a lot better than that. Do you know the model numbers your accounting firm is working on? Will from Clarity and Dan from Futrli talk you through why the traditional business model is broken, how to fix it and how to check your figures in our Clarity/Futrli calculator. It's time to update the traditional accounting business model.
The business model is broken
Accounting firm profitability is falling on average by 41% some studies are showing. Revenue is generally decreasing as there is a race to the bottom on fees for compliance, particularly for SME accounting firms. The traditional model is based around ⅓ of the profits going to the partners. For many, the reality is more like 15%.
Why?
Firms are spending more like 50% on salaries.  Processes are not systemised to ensure efficiency. Profitability on jobs is rarely tracked and the result is often an under-charging on fees. Scope creep is rife across the board which results in a distraction away from your best fee-paying clients.
Next, find me a business owner who truly values compliance work. I hate to break it to you, but they aren't waiting on the edge of their seats to receive their year end accounts to sign. Then to find out how much tax they have to pay. In many cases right before they have to pay it.
If your service is based solely around delivering compliance then the only bargaining power you really have over the competition is price.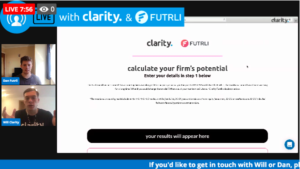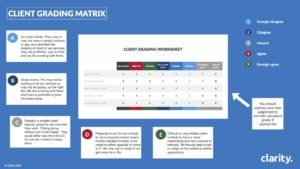 How can you fix it?
Firstly, do a client segmentation and grading exercise. Work out who your 'pain in the a**' clients are and get rid of them. Or at least bump up their price. They are not worth the hassle – they make your team grumpy dealing with them and they don't pay you enough to make an unhappy team.
Next, start looking into offering advisory services across your entire client-base. Traditionally it's the top 10 or 20% of the lucky ones who get some business support service on top of their compliance work. And it's likely all delivered by the partner.
It doesn't need to be the way anymore. Using the likes of Clarity and Futrli, allow you to deliver this support to pretty much everyone and delivered by your whole team.
At Clarity we're helping our members improve their net profit by as much as 125%. Think that sounds too magical? Watch the video above and Will and Dan will talk you through how to use our Clarity/Futrli calculator. See for yourself the potential in your firm: https://clarity-hq.com/clarity-futrli-calculator/ 
We look forward to helping you on your journey to creating the profitable firm that you deserve. Call us today for your own deep dive demo and how you can make this a reality.