Hear how Clarity helps one member "provide accessible and affordable advisory services" in our Q3 Clarity Case Study with Bronze and impact elite mastermind member, Sharon Pocock – Kinder Pocock. 
Introduction to Kinder Pocock
We are award winning digital accountants in green and rural Herefordshire, but with clients across the globe. We use the latest technology to enable us to give the best support for small business owners, and help them to reach their personal and business goals.
Our core values are so important to us:
Act with happiness and love
Be curious
Share knowledge
Do the right thing
Keep it simple
Clarity fits right into these values!

How long have you been using Clarity and what was the set up like using the 14 Day Quick Start ★ Guide and OneClearPath?
We've been using Clarity for about 6 months. The set up and implementation is easier than any software we've used before. At first we were cautious as we weren't sure we'd have the time to devote to it. But going through the Quick Start Guide and working with the member success team made us focus on the quick wins to build momentum. Once we started to achieve results, it became obvious where it would fit into our workflow.
OneClearPath has taken it on another level and has started to help us systemise this within our practice. It still feels like we're only scratching the surface with it as we can see just how much potential there is with existing and prospective clients.
The support from the whole Clarity team is great, it's great to have you on our team!
Why did you choose Clarity?
First of all, we liked that it was created by accountants for accountants. The founders have been there and done it and you can tell it's been built with that experience and insight in mind.
We like the simplicity of the product, and how easy it is to get the whole team involved with. The plan is to provide a service that\s more than just compliance to 100% of our client base. We can only achieve that if it's not all delivered by me! Clarity gives us the structure, training and support to allow our whole team to be delivering these added value services.
Visually it's very neat and simplifies the story behind our clients' numbers.
The Clarity team are constantly developing the product, so we are able to get more and more value out of it.
What value have you found from the Clarity Client Grading System?
The grading system has given us a real insight into clients we could provide more to, and also those who may not be the best fit for us. It's helped us to focus our time and efforts on delivering the right services to the right clients. Most importantly, it's made us aware of potential scope creep that often happens with the lower graded clients.
It's also been a fantastic way to introduce our new team members to clients, and also to allocate client managers. The team have loved being able to have these strategic conversations with our clients and they've thrived off seeing the reaction of the clients.
What key take-aways have you taken from Clarity suggested packages and pricing?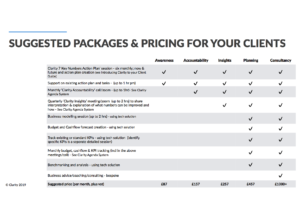 Clarity is so much more than just an app. They have provided so many systems and guides and have produced everything that you could need.
The suggested pricing packages that Clarity have put together fit in nicely with the packages we already offer. It gave us peace of mind that we were doing something right before as these are what have worked for other Clarity members.
For us as a team Clarity is perfect for providing accessible and affordable advisory services, and there is also an easy way to move clients up to more involved packages when they're ready.
What happened as a result of using Clarity
Clients are blown away.
During our most recent client meeting using the Clarity action plan, our client kept asking all the way through when he would get the action plan and get started on his actions! It's great that they want to be held accountable as we love to have as much client interaction as we can.
Clarity is easy for small business owners to understand, is a great conversation starter, and a great way to up-sell our advisory services, which let's face it is the best part of our role!
The team are happier that they get even more client contact. Our clients are happier and more excited than ever about their businesses. Given we are coming to the end of such a difficult year for everyone, this is the perfect time to get our clients thinking forward and putting together actions to make 2021 their best year yet.
I have also been a part of the Clarity mastermind group, led by Steven and Aynsley. It has been brilliant to be part of a group with like-minded ambitious and digitally focused accounting business owners. The group accountability, collaboration and insight from Steven and Aynsley has allowed us to build a pathway to advisory within Kinder Pocock. It's provided a space to bounce around ideas before we take action and has been a perfect sound board.
Now I put 90 minutes aside every day to work on my business which has been transformational.