Social media is an undeniable force in today's world.
According to 2019 social media statistics, there were 3.2 billion users around the globe, as of 2021 there are 4.2 billion. That is about 52% of our total present population. Your online branding is a direct representation of your business and a clean-cut communication line to your current and future client base.
"Socially devoted" brands receive 3.5 times more user interaction than non- devoted brands. In-case you are still on the fence about the importance of social media marketing, have a read of some stats that #TeamClarity have collated…
We 💙 statistics…
70% of small businesses are on Twitter

More than 40m small businesses have active pages on Facebook

30m companies have LinkedIn profiles
42% of Twitter users use Twitter to learn about products and services
67% of Twitter users are more likely to buy from the brands they follow
Tweets that include links are 86% more likely to be retweeted 96% Facebook users access the app on their mobile Facebook's algorithm prioritises videos on users' news feeds 85% of Facebook videos are watched without sound
41% of fans 'like' a page to receive regular updates from a brand The best time to post on Facebook is weekdays between 10-3pm
Photos account for 93% of user engagement activity on Facebook and double LinkedIn comments
Shorter posts using emoticons receive higher rates of engagement
Social media is free to run
 
Given these statistics, social media is clearly an important tool for all businesses, not just accountants, to use to promote their brand and services. The power and importance of personal and relatable content has a direct correlation with public engagement. But media doesn't only have to be relevant for external promotion and processes. You can also use media within your business in everyday systems to stand out from the crowd and go the extra mile to convert prospects.
People buy people
Never underestimate the power of human connection. Yes, email reminders might encourage your clients to pick up the phone and book a meeting in. But a sale is almost always secured through human interaction.
Actually speaking with, or to your clients and showing them visually what small percentage changes could have on their bottom line provides a financially quantifiable value proposition for your firm and helps your clients understand exactly what they're paying for.
Part of the Clarity platform's Bronze Partner Programme is a guide based on 'how to introduce Clarity'. In this, we share tips with our Clarity members on engaging with their clients and securing the sale (and therefore an ROI) with Clarity. One of the tricks you can use is recording a video. This way, you can be personable, without hosting a face-to-face meeting. To create your own video, you can use tools such as zoom or skype.
Why Video?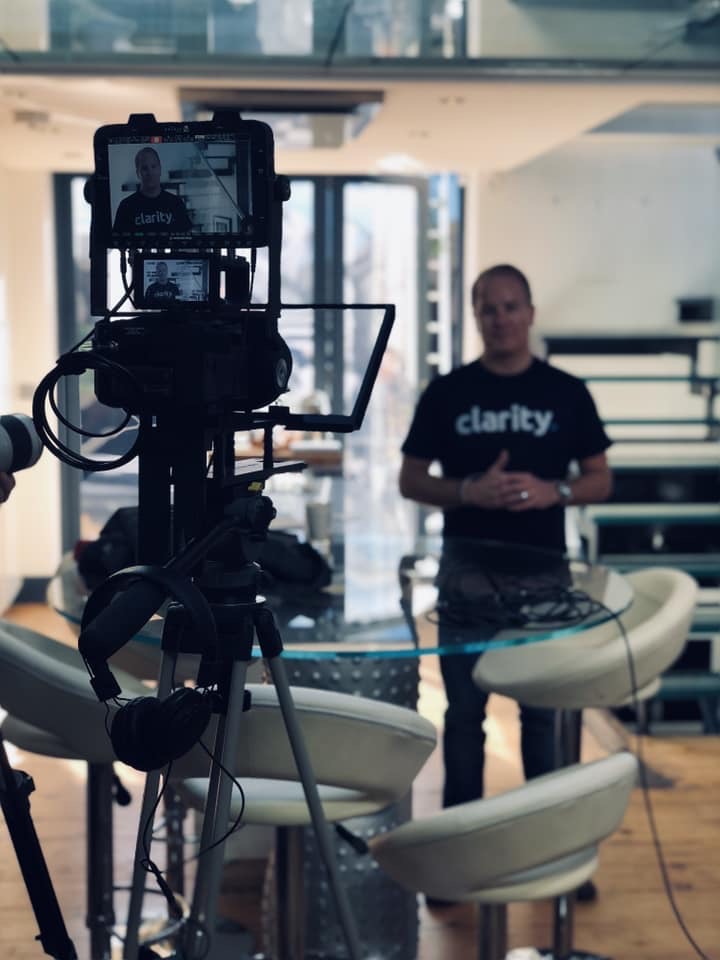 Quick – once you are used to it…
Get across a lot of information
It's a bit different …. and for a different conversation or service will be easier for the client to digest and they can understand your tone better than written form
You and your team will need to get used to video in any event, as video content will become more and more important Clients may take more notice?
Looks like you've put more thought into it and the client
Remember, this does not need to be a Hollywood production! And the more you use video, the better you will get. Practice makes perfect.
If you would like help with putting together videos to sell your services convincingly, or need some hints on 'best practice' for marketing, head to www.clarity-hq.com for information on our partner programmes and #TeamClarity support. At just £130pm it is a no brainer just for the startup guides!