''I sent out 400 emails and heard nothing''. The idea for our latest Clarity/Futrli Facebook Live session came up when new Digital Accountant of the Year, Graeme Tennick, told us that he'd emailed the majority of the client base following the announcement of another lockdown. And heard not a peep from anyone. How do you engage your clients in a COVID world?
In this 25 minute session Sam Horner (Futrli), Graeme and Sam Tasker-Grindley (Clarity) touch on the most effective methods of communication and the importance of making use of your content and webinars. Finally they discuss an increase in collaboration in the industry. And how it will result in better advice and support given to small businesses. Enjoy!
The Key Takeaways
Communication – how to engage your client base
Following the Halloween announcement that the UK is heading into another lockdown, accountants would be forgiven for feeling a sense of dread and thinking 'Here we go again'. During lockdown 1, accountants across the country really stepped up. They took the weight of their client's problems on their shoulders. Many were drained, both emotionally and physically.
So when Boris announced another lockdown, which starts today, we wanted to explore what lessons we can learn from the first lockdown and how best to communicate with our clients now.
Graeme humbly admits that he hasn't found the answer yet. There is likely to be no one-size fits all. But just because those 400 clients didn't respond to an email, doesn't mean they aren't worried or need extra support.
Thus, the trio agreed the following:
As the firm owner or client manager, you should have a feel for which of your clients will be affected the most by a further lockdown. These clients should be phoned in the first instance and as a matter of urgency.

PICK UP THE PHONE

There will be frequently asked questions from your client base. Rather than deal with these on a 1-2-1 basis, direct them towards a newsletter, blog or host a webinar to cover the top issues. Then, if clients have more specific issues and questions, they can reach out with them.

DIRECT CLIENT BASE TO YOUR CONTENT
Use Clarity and Futrli to build out action plans and make clients aware of the situation they're in. Whether this is catastrophe planning or growth planning, both Clarity and Futrli are perfect tools to help your clients survive and thrive. Your clients won't be running to you for compliance support right now. They will want business support and advice. Record a video using Clarity's 7 key numbers or email out a report directly from the Clarity platform. USE CLARITY AND FUTRLI!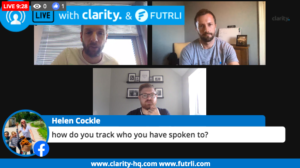 Collaboration is key
Within the Clarity community of accounting firms, there has been a noticeable shift towards real collaboration between firms. Members are sharing ideas, challenges, successes with each other. They are coming together to support each other with the goal of better supporting their clients.
Graeme is a particular advocate of collaboration. He does so within Clarity's community, Futrli's Peer group and the Accountant Millionaire's Club. He's passionate about providing an advisory-led service to 100% of his client base and wants to help other firms to do the same. 
There is enough work to go around. And there are plenty of accounting firms out there who are not doing enough for their clients right now. By collaborating with like-minded accountants, you will steal a march on those who are jumping straight back into using the furlough scheme and shutting up shop. Furthermore, this is the time to really show the value of your services to your clients. Now is the perfect time to move all relationships from compliance to compliance 'plus' advisory.
Collaboration will take the industry further than competition. You're all in this together!
Clarity & Futrli
Sometimes accountants can be guilty of telling businesses they need a cash flow forecast or sending over long reports without any real context or follow up. Clarity helps to provide that context to a client and allows them to visualise and understand why they might need various forecasts and budgets.
Using the 7 key numbers, accountants can direct the conversation to the parts of the business that need the most attention and action. All businesses should have an action plan. Accountants can now be the ones that provide them in a systematic and scalable way. 
Clarity will help you identify the profit and cash potential in their businesses and this can provide the perfect opportunity to show them why they might need Management Reporting. Enter Futrli :). The two apps form quite an advisory duo as Graeme testifies in the above video.
Help is out there!
Clarity have created a COVID Care Call System to help you be there for your clients in this time. This includes a Small business COVID help guide and a battle plan: https://clarity-hq.com/clarity-covid-care/
Lastly, you can join Futrli's Peer Community and discuss success and challenges with other accounting firms and get all of the latest Futrli news! https://peer.futrli.com/groups/community