#TeamClarity are big fans of Revolut both personally and professionally. We're delighted to share the launch of their new partner programme dedicated to supporting accountants, bookkeepers and small business owners around the world. Who wouldn't want Borderless Banking? It's a vision that we can totally get behind… 😜
What is Revolut Business?
A borderless business account built for accelerating growth by giving you ultimate control over your business finances. With seamless multi-currency accounts for fast and flexible payments, businesses can manage accounts in 30 currencies and send or receive money locally and internationally without the rubbish exchange rates. Revolut offers FX, meaning no hidden fees and completely transparent, market-leading pricing structure.
Revolut banking also offers end-to-end expense management integrated within your account that are easily connectable to your Xero or QuickBooks accounts. You also have access to no-fuss multi-currency corporate cards with instant virtual cards for security and flexibility.
Added advantages include: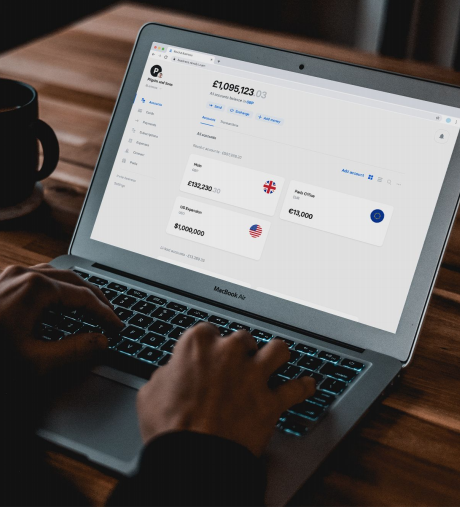 Business API & Open Banking – Build custom integrations with your software to meet specific needs. View all your bank accounts on a single dashboard
Integrations – Integrate with apps you already use in just a click. Connect your account directly to Xero, QuickBooks and more.
Perks – Curated discounts and perks from leading partners to help get your business up and running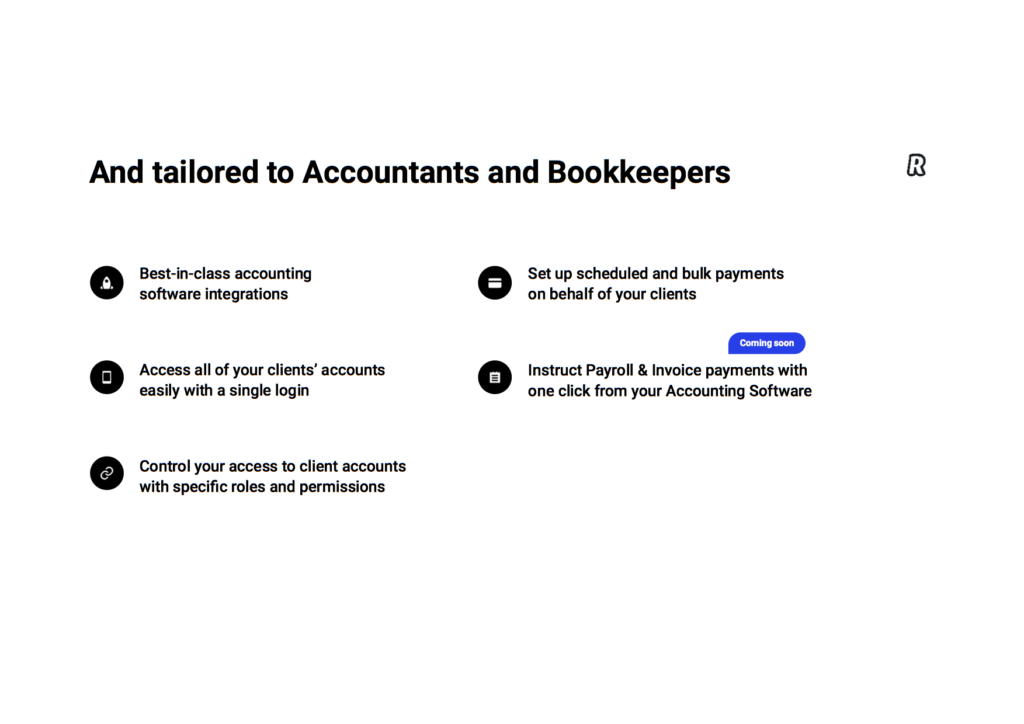 An ideal set up for proactive accountants looking to offer something brand new to their clients. The partner programme has been designed so that accounting and bookkeeping firms can get the most out of Revolut Business.
We're all aware of the headaches accountants and bookkeepers usually face when interacting with their clients' financial accounts. That's why Revolut have added special functionality in Revolut Business dedicated to simplifying your workflow. In addition, there is also a wide range of exclusive benefits to partners that will help you grow your own business and build trust with your clients. These include:
1. Free Revolut Business Grow/Scale account for your firm (worth £25 per month)
2. 3 months of free Revolut Business Grow account for your clients
3. Revenue share (Optional)
4. Marketing support such as exclusive partner marketing kit and badge for you to use with your clients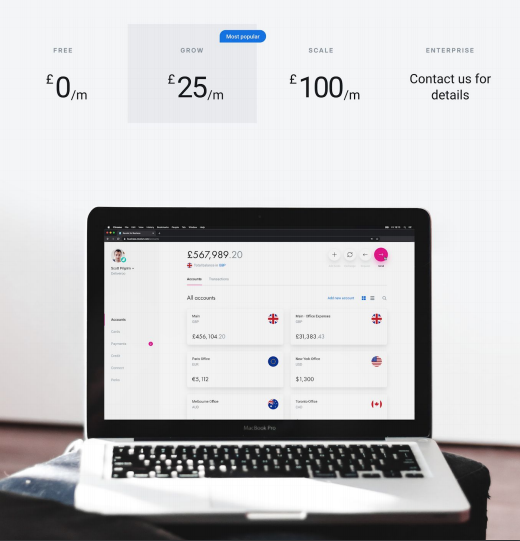 b) Presentation for your clients
c) Brand folder
5. Bulk payments
6. Payroll Payments
7. Priority 24/7 support
8. Direct access to multiple clients' accounts
9. Exposure to Revolut's community of 400,000+ businesses
10. A place on Revolut's Accounting/Bookkeeper Marketplace (coming soon)
Revolut have pulled together a presentation explaining the above benefits of the new partner programme for you here. (In case you need to share with other partners in your firm).
How do you sign up?
Get started today by filling out the new partner form here and access your new referral link by clicking on the 'Refer a business' button in the left side panel of your account – you can start referring your clients to Revolut TODAY.
If you have any burning questions about the partner programme and how to sign up, contact [email protected]
---
Clarity is an online platform that revolutionises the relationship, understanding and communication between accountants, bookkeepers, advisors and their small business clients worldwide. It provides a framework, together with the required systems and processes, to help each other grow and succeed.
Small business owners are the backbone of the global economy and represent 95% of all businesses worldwide. They generate employment and wealth, build communities and power growth and national economies. However they are not achieving their true potential. 60% fail within 5 years and only 1 in 10 last more than 10 years. Business is complex and getting even more so!
Clarity makes the complex worlds of business, accounting, numbers, strategic planning, and sustainable growth, simple!
Our purpose is to help small business owners create a better business for themselves, a better life for their family and team and ultimately, inspire them to contribute towards a better world.