For many, being your own boss is the ultimate dream. You are in control of your timings, working hours, lifestyle and the sky is the limit for income opportunities.  But many can find the freedom a hinderance, especially when times get tough for your business. Without a boss keeping on track of deadlines and no-one to justify your actions to can lead to laziness. It can be difficult to stay driven and motivated.
It's important to find out what drives you and keeps you motivated as a small business owner. Structure is key when you are working for yourself. Aynsley Damery, CEO at Clarity, put together 5 ways to stay driven when you're your own boss for the team at Tide.
Ways to Stay Driven
1. Have a Clear Purpose and Vision
What gets you out of bed in the morning? Understanding what drives you, knowing what you are looking to achieve and staying focussed on the end goal are all crucial to keep in mind as your own boss. Keep your vision front and centre of every day to stay driven.
Some people find mood boards or vision boards are helpful to remind them of their end goal. Other people change their desktop to a picture that relates to their purpose.
Purpose
Purpose: Why you get out of bed in the morning
Vision
Vision: Your picture of your business in five or ten years, or, when it's finally done
At Clarity:
Our purpose is to give every small business owner clarity.
Clarity so they can create a better business for themselves,
a better life for their family and team,
and ultimately contribute towards creating a better world
For more information on how we are going this and some more background to our ethos of better business, better life, better world, visit: https://clarity-hq.com/uk/
Our vision at Clarity:
We envisage a future where Clarity changes the way business is done globally, forever – putting power back in the hands of small business.

We want Clarity to be the one-stop shop for business owners worldwide.

An all-encompassing platform that harnesses the power of AI and machine learning to help them understand their numbers and business, where they rank with their competitors and how to do better. Core features will include file sharing, easy access to funding and third party verification using blockchain. Clarity will also contain details on insurance, finance, human resources and standard operating procedures.

Leading to a future where small business owners truly do have a better business, better life and live in a better world.
If you would like some help writing your own vision, check out our step-by-step guide to writing your own clear vision. https://clarity-hq.com/clear-vision-for-business-trusted-advisor/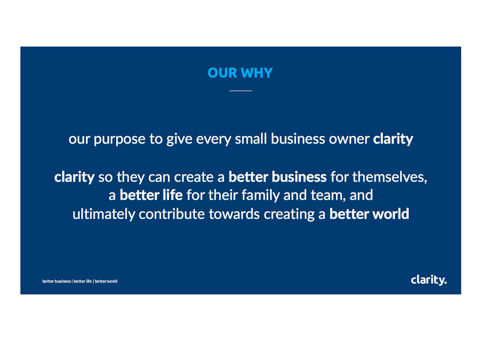 2. Break Down the Bigger Vision into Bite-Size Actionable Chunks
Olympic athletes work in four year cycles, breaking down where they are now versus where they want to get to. You can't leap ahead to the finishing line without making small steps in-between. In the same way – you climb a mountain just one step at a time. Break down your goals into a group of milestones, and then break down your milestones into manageable step-by-step actions.
Warning! Be sure your goals are SMART:
S – specific

M – measurable

A – achievable

R – relevant

T – timely
3. Be Ruthless with your Time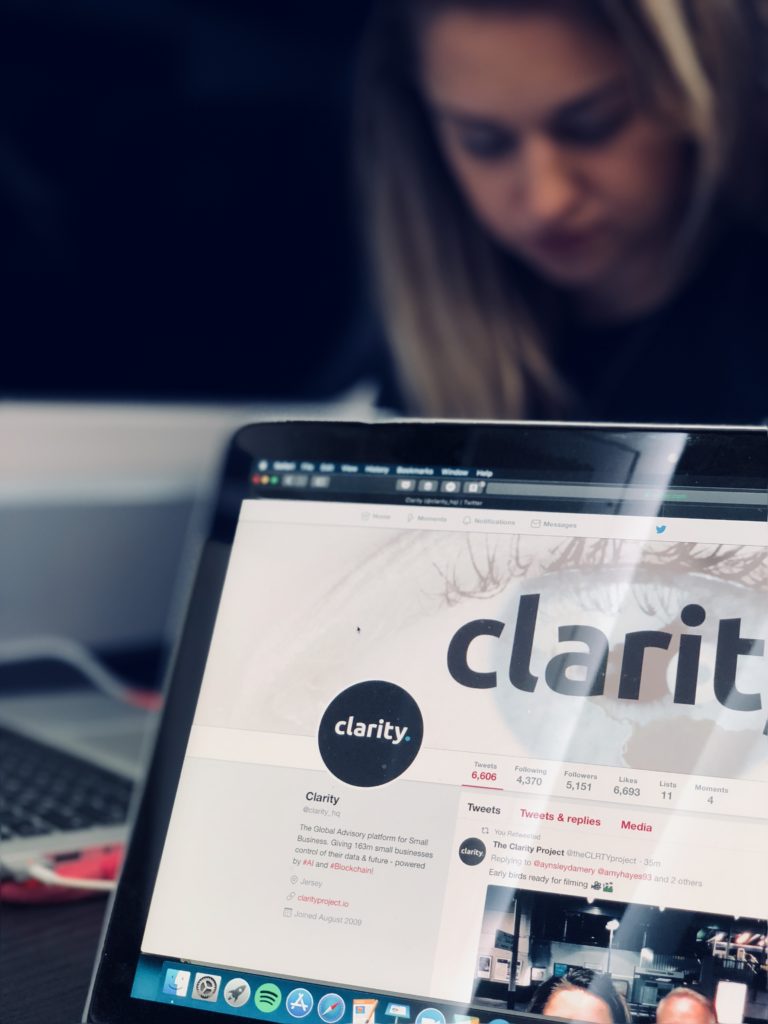 There a many simple ways to do this, for example planning your day the night before and mapping out tasks ahead of time. It's important to only focus on the tasks that directly relate to achieving your goal. You can identify these by remembering where you are now, and where you want to get to. (Perhaps by looking at your screensaver!) Learning to say no to the time vampires that want to suck your time away. These can come in the form of clients or tasks!!
4. Shut off all Distractions
Don't have email on your phone
Turn off or snooze notifications – for both personal and business apps, eg slack
Only check your emails at certain times. And set these times to be when you're at your least productive. This will ensure your time spent on big tasks are the most productive and having a positive impact on your goals and action plan. The activities you work on during your most productive hours are ones that drive your performance as a business
Overcoming distractions can help you stay driven.
5. Connecting with your Team
If you are part of a team it is important to touch base regularly. It is hard to work in isolation 24/7. In this digital age where remote working and outsourcing has become the norm, entrepreneurs and self-employed workers need to ensure that they are getting the right balance of contact with team members.
At Clarity we have the following check-ins booked into our Clarity calendars:
Daily huddles (on zoom) – #TeamClarity check in on what's going on in the next 24 hours for each team member to highlight any short term 'stucks'
Weekly team meetings – These have a larger agenda to keep track of our targets as a whole
Regular face-to-face meetings – encouraging collaboration and boosting morale as a team
If you are not part of a team directly, you should keep a network around you who you trust and that you can check in with. This can be in the form of mentors, friends, networking groups, experts or many more. They need to tick the following criteria – they help you solve problems, keep you accountable to your goals, and be there to celebrate your wins!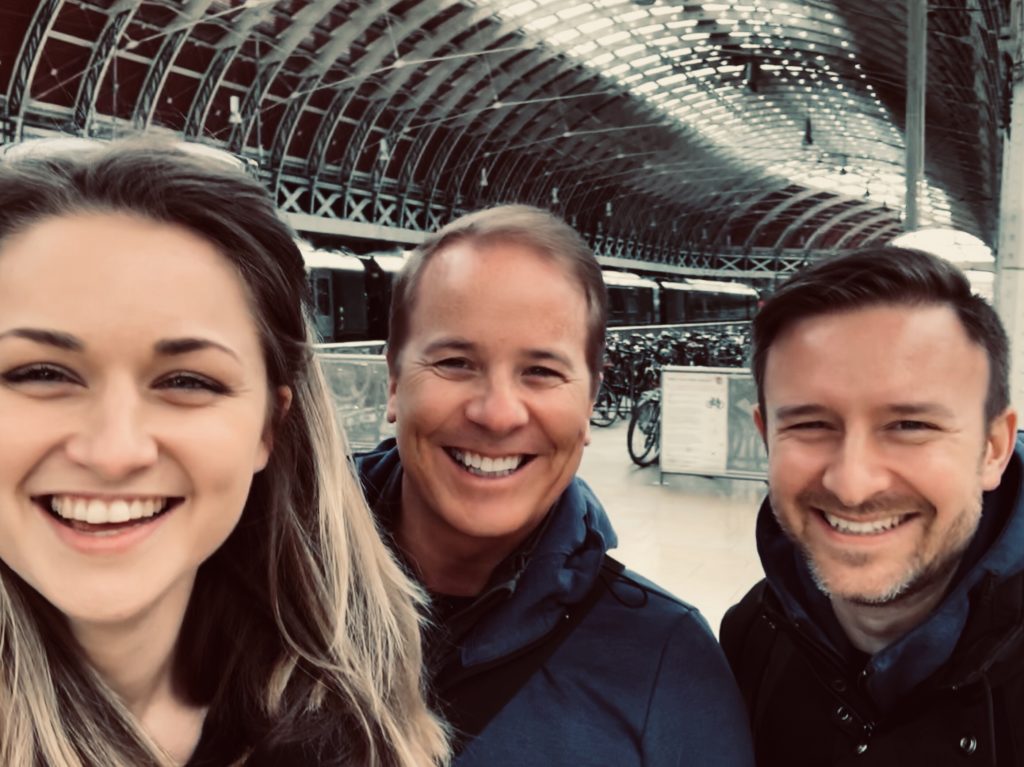 Where Clarity can help
Small businesses are leaning more and more on their accountants – looking for a trusted advisor 24/7. Clarity provides accountants with the tools to scale advisory, that is appropriate for both the client and fee involved.
By making business simple, Clarity helps small business owners around the world understand their numbers and how to improve them, create a better business using our step-by-step development programs, and, access the cash, funding and investment they need to grow and scale profitably through our structured online data room.
If you would like to be put in touch with one of the awesome accountants in our #ClarityCommunity then get in touch us on [email protected]